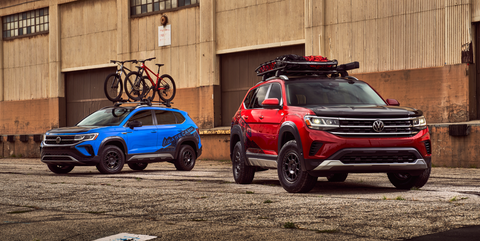 Volkswagen
On Halloween, Volkswagen filled our SEMA treats bag with 10 cool concepts, show cars and historical vehicles to make the holiday particularly delicious. Don't eat 'em all at once.
VW is one of five major manufacturers to have a presence at the big SEMA performance parts party in Las Vegas, after GM, Ford, Honda and Hyundai all pulled out. So, "Yay Volkswagen!"
"Volkswagen of America, Inc. is pleased to have an exhibit at this year's Specialty Equipment Market Association (SEMA) Show® in Las Vegas, Nevada," said VW in a release, sounding about as German as you can sound (don't these guys ever get excited?). "A number of custom builds will be on display from November 1 to November 4, including adventure concepts built on Volkswagen's SUV models, alongside performance concepts and historic performance models."
Let's have a look, shall we?
ALSO CHECK OUT THESE 8 COOL CARS AND TRUCKS OF SEMA
---
Advertisement – Continue Reading Below
Atlas Basecamp Camping Concept
The Camping Concept rides on 17-inch fifteen52 Traverse MX wheels in Frosted Graphite wrapped in 245/70R-17 all-terrain tires under a raised H&R suspension utilizing Street Performance Adventure Lift coilovers and TRAK+ wheel spacers. On top is a Thule Basket and side awning. Inside, it's lined with VW accessories from a tablet holder to Muddybuddy floor liners.
Atlas Basecamp Camping Concept
Sure, this may be just a collection of aftermarket roof racks and air pumps, but it is a well-curated collection of aftermarket roof racks and air pumps. For instance, the coolest thing is the inflatable air mattress that turns the entire back half of the Atlas into a very comfortable-looking bedroom. That air mattress isn't even listed among the accessories, but the prototype 2-in-1 Air Pump by NSV is. It's incorporated in the trunk area to inflate whatever needs inflating.
Taos Basecamp Active Concept
One size down from the Atlas but just as rugged is the Taos Basecamp Active concept, based on a 2022 Volkswagen Taos SEL 4Motion. It rides on slightly smaller 225/55R-17 all-terrain tires mounted on the same 17-inch fifteen52 Traverse MX wheels in Frosted Graphite, riding on an H&R lifted suspension. Among the genuine VW accessories are base carrier bars and bike racks, along with the full-display mirror, tablet holder, Muddybuddy floor liners, roadside assistance and first aid kit, Bumperdillo protection plate, and rear seat cover, the same items found on the Atlas above. Those are Marin bicycles and bike helmets, btw. The whole rig looks just as cool as the Atlas but is a lot more affordable.
ID.4 EV Drone Command Concept
Okay, this one is pretty boring, even by SEMA standards.
"Volkswagen of America is collaborating with the Tennessee Valley Authority as the utility corporation sets a goal of operating a 100 percent electric sedan and SUV fleet by the year 2030," VW said.
Hooray for the TVA! (Let's not forget Volkswagen's factory is in Chatanooga.) That roof rack is meant for landing drones.
"As one of its early steps, the utility provider has chosen to collaborate with Volkswagen on a yearlong test using its ID.4 EV to analyze capabilities and various applications of electric vehicle usage. As part of this test, Volkswagen has modified a 2023 ID.4 AWD Pro S as a 'Mobile Drone Response Vehicle' to equip TVA test drivers for a number of real-world response scenarios."
The rig does have A/T tires on 18-inch wheels with that same H&R suspension. Hey, and floor liners, too, don't forget the floor liners!
This one similar to the TVA ID.4 above. The ID.4 Accessories Concept starts as a 2021 ID.4 1st Edition and adds "versatile lifestyle elements" such as: Volkswagen Accessories base carrier bars, Thule Canyon Basket, and an Apex XT 9025XT hitch-mounted bike rack. Wait! There are also: splash guards!
Snore.
Now we're talking! Check out that aerodynamic roof rack!
"An homage to the Volkswagen enthusiast, this GTI concept reflects a blended approach to personalization," says VW. "Based on a 2022 Volkswagen GTI SE with six-speed manual, the concept features Oettinger body styling components—front valence, rear valence and rear spoiler—as well as 20-inch gloss-black multi-spoke wheels wrapped in 245/30R-20 high-performance tires."
It also gets upgraded brakes with eight-piston calipers and 14.6-inch ventilated cross-drilled rotors in front. It, too, rides lower than stock on H&R Street Performance coilovers. And what VW calls "GTI dynamic center wheel caps and dynamic turn signals!" Those latter items are probably good for +0.1 g in turns.
As near as we can tell this is an 18-year-old R32, certainly something worth celebrating. Volkswagen simply listed the specs of the show car here as the same from the first US-spec R32, introduced here on our shores in 2004: Narrow-angle 3.2-liter VR6 engine putting out 240 hp and 235 lb-ft of torque, paired with a six-speed manual and 4Motion all-wheel drive, a special three-grille front bumper, side skirts, rear hatch spoiler, and rear valance with special dual-exit rear muffler. It rode/rides on 18-inch multi-spoke wheels, paired with 225/40R-18 performance summer tires and 13.1-inch front and 10.1-inch rear ventilated disc brakes. US buyers got 5000 of them.
It remains one of the greatest—if not the greatest—hot hatches the world has ever known.
And if we're going to show the original Golf R, we have to see the current model, right? "While the previous Golf R models were widely regarded as the best hot hatches you could buy, the Mk8 version is even better," VW says. "The redesigned 2022 Golf R continued to evolve a legacy of understated performance first pioneered for the 2004 model year. Almost two decades later, the fifth iteration of Volkswagen's performance halo ups the ante with new race-inspired content and premium features."
Power output is now 315 hp, and up to 295 lb-ft of torque from the EA888 evo4 TSI engine mated to either a six-speed manual or seven-speed DSG transmission. The new model also has new vehicle dynamics settings and torque-vectoring AWD, along with new driving modes to improve handling. The Golf R on the VW stand at SEMA is fitted with 19-inch black machined aluminum-alloy wheels wrapped in 235/35 summer performance tires and features 14.1-inch front and 12.2-inch rear vented disc brakes.
The third in the "Great Golfs We Have Known" series on the Volkswagen stand this year is this, the 1993 Rallye Golf 3 A59 Prototype. Don't recall this one? VW reminds us of the car's history, saying it was created as a proof of concept to determine the feasibility of entering the 1994 FIA World Rally Championship, for which homologation regulations required that manufacturers create 2500 street-legal versions. This prototype was developed with Schmidt Motorsport (SMS), and had it been put into production it would have been the highest performance version of the third-generation Golf family. This specific car is the only complete version ever built. So you won't see these at your local Caffee und Kuchen Saturday morning.
"The engine and drivetrain was developed specifically for this concept, and although the Golf A59 did not go on to compete in races, the engine design went on to class wins at the 24 Hours of Le Mans race in different vehicles," Volkswagen says. "Volkswagen's performance unicorn featured a bespoke 2.0-liter all-aluminum turbocharged four-cylinder engine, putting out 275 horsepower and 273 lb-ft of torque, paired with a six-speed manual transmission and four-wheel drive with a variable center differential. The front strut-type suspension was modified with Bilstein shock absorbers for longer travel, and the control arm width was increased by 3 inches. The fully independent rear suspension was a multi-link design, with Bilstein struts, and retained the original factory chassis attachment points, supplemented with additional points. It rode on 16-inch five-spoke Speedline SL817 motorsport wheels, with 225/45R-16 tires, and braking was handled by a Brembo system with cross-drilled brake discs."
That's carbon fiber and Kevlar on the exterior, along with a modified front bumper with chin spoiler, additional air intakes in the custom grille and hood, widened front and rear fender arches, pronounced side skirts, a rear hatch spoiler, and a custom rear bumper with twin pipe muffler. Inside are Recaro A8 sport seats with integrated head restraints and supportive high bolsters. An early '90s digital dashboard with engine monitoring selection sat in front of the driver, while additional engine and rally controls resided on the dashboard and inside the glovebox.
Jetta GLI Performance Concept
This Jetta GLI show car is built on the bones of a six-speed-equipped 2022 Jetta GLI Autobahn. This GLI now sports 0.8-inch wider fenders that accommodate the new wheel and tire package. Rotiform GRZ monoblock wheels feature custom Aerodisc wheel covers that help streamline the styling. Making the most of the wider track, this GLI features significantly more power from an upgraded turbocharger, intercooler and air intake. Volkswagen says this 2.0-liter EA88 powerplant now makes 350 hp and 372 lb-ft of torque. That power travels through an upgraded clutch but still meets the stock six-speed manual transmission.
Responsible for slowing this hopped-up GLI is a set of six-piston calipers that clamp 15-inch carbon-ceramic rotors from Racingline. This show-car GLI is also home to Racingline's TrackSport coil-over suspension kit
The Rebelle Rally is an overlanding extravaganza competition held every fall in the deserts of California and Nevada. It is open to women only. Navigation is done with hand-held compass and paper maps only, no GPS. Those who have done it tell us it's a life-changing experience. One team drove this ID.4 in the rally and finished!
Advertisement – Continue Reading Below
link