Fuel efficiency of the SUV has been in the range of 18 – 25 km/l.
BHPian sse recently shared this with other enthusiasts.
Insight into our Car Purchase Decision
In 2017, My father purchased Maruti Ciaz ( Diesel Smart Hybrid when it was launched in Nexa ) and little did he know that I'd soon be into business and the car would become a beater! Four and a half years & 2,00,000 km on the odometer later, the discussion to change the car began.
Running Cost
My father's first task was to find Ciaz's running cost. One thing that is ridiculous with Ciaz, or should be with any Maruti Car for that matter, should be its running costs. It took little effort to come up with data like diesel consumed and cost of services & repairs from my accounting staff which turned out to be crucial later in the decision-making process.
Diesel Consumed – 8,855 Litres (Rounding to 9,000 Litres as at times, I might have not accounted few receipts)
Diesel Cost – Rs. 7,23,930 (Rounding to Rs. 7,50,000)
Avg Fuel Efficiency – 22.60 Kms/L (I am mostly a boring driver who loves to cruise at 80 to 90 km/h & never higher)
No. of Services – 26 Services (Mostly Non-showroom services)
Service Cost – Rs. 2,43,456 (Rounding to Rs. 3,00,000 including accident expenses)
Total Cost – Rs. 9,67,386 (Rounding to Rs. 10,50,000)
Avg Cost / Kms – Rs. 4.85 (Rs. 5.25 Approx)
(Note this was just an over-the-eye calculation)
By the time the above details were figured out, the criteria for each individual member of the family began coming in.
Look-outs in the new car
The consensus was reached and each of us gave a feature that we require in a new car that we cannot let go from Ciaz:
Budget strictly to less than 15 Lacs On-Road. (Father's)
Diesel only (Joint decision as Petrol was not at all considered)
Manual Transmission (My chauffeur' despises Auto Transmission)
Cruise Control (Myself – 80% of our drives are on 4 lanes & this would be a great feature to have)
Sedan (Mother's – Leg space in the rear seat cannot be compromised)
Boot Space (Wife's – As big as Ciaz. We pack heavy for our travel)
A Safe Car (A joint decision)
Until our decision to purchase a new car, We hardly knew models or current trends. But, I keep a tab on team-bhp and other magazines just for the knowledge. So, we assumed the car decision would be an easy process. How wrong we were! The next 45 days saw arguments, reading magazines like Motor Vikatan or YouTube channels to prove a point. Worse, it got to a stage where the dining table conversations were beginning to get on my nerves. We now had more information on cars than 45 days ago and it helped a lot.
Car Usage
Surely a daily commute of 70 km in addition to every week a 1000 km travel within Tamil Nadu mostly on 4 lanes. It would be chauffeur driven, who is strictly instructed not to drive more than 90 kms/h. The driving pattern ensures we extract maximum fuel efficiency.
Sedan to Compact SUV
Ciaz spoilt us. Be it with leg room in the rear seat or boot space or mileage, Ciaz offered us everything. On search, We could hardly find any Diesel sedans other than Honda City, Hyundai's Verna & Elantra with Elantra was out of budget. So we decided to start with Honda City. We made a visit to the Honda showroom and were immediately given a Test Drive. It was a splendid and perfect upgrade from Ciaz. During our test drive, it was almost decided that it'd be City.
However, Dad, who is now in the early '70s, always found getting out of Ciaz, a bit tough. He walked past a display model of WR-V. He sat in and stepped out smoothly. While we were getting a quote for City, I noticed my father was interested in WR-V. He explained his apprehensions on ingress into City and that a Compact SUV might suit him more. It was at that moment we decided to go for SUV.
Now, this opened us to a lot of options to play with. While that is a good thing, it created chaos!
Spoilt for choices – Showroom Visits
By mid-March, we took a visit to Kappalur Industrial Estate in Madurai. Within a kilometre stretch, One can visit Jeep, Toyota, Nissan, Mahindra, Tata, MG, Renault, Volkswagen, Hyundai & Maruti. We decided to spend an entire Saturday test driving the cars.
First was the famed Toyota showroom. We found out they have nothing to cater to us, other than Innova & Fortuner. I wish they catered at least one product that fits my need and I would have picked it just to experience their renowned service. The dealers' customer service tales are the stuff of legends in and around Madurai.
Second, Hyundai. After walking past all their models, the only car that came with good legroom and acceptable boot space was Creta. We found Venue / i20 to be cramped for space in the rear. We were not in the market for 7 seater which rules out Alcazar. Father found ingress in Creta easier than WR-V. The base variant On-Road-Price began at 13 Lacs and the next variant was about 16 lacs! On enquiry on Safety, I was promised its the safest car in its range. I mean, come on. Anyway, Creta was shortlisted.
Third day was Mahindra to check XUV300. The dealer pushed us to look at XUV&00 and we absolutely loved it. But, we are not in the market for a 7-seater and the waiting period is just way too far for our comfort zone. I was quoted 6 to 7 months. XUV 300 got little love from the dealer itself. In fact, they did not even care when we asked for a test drive because they knew I was looking for things that are completely absent in XUV300 – Boot Space & Rear seat comfort. We only had a glimpse of the model in the showroom and moved out.
The showroom that blew us off was MG! Anything we asked was instantly catered to during the visit. Coffee? Yes. Milkshake for the kid? Sure, why not! Test drive? The car was outside even before we decided. Father found Hector to be a little higher than Creta but if we had to go anything by my mother, wife and daughter, this was the car – because they loved the leg room, a boot space bigger than Ciaz and kid absolutely loved the Panoramic roof. Selecting Hector also meant, we go one up on the 'car status ladder' – From 10 lacs car to 20+ lacs car – a big thumbs up from a certain member of my family. We welcomed Hector to our shortlist. We absolutely loved the way we were treated at the showroom.
Last for the day was TATA. By this time, my father was worried if it was really worth it to visit so many showrooms to pick up a car. Just book one and get rid of this phase, he said! We looked at Altroz and skipped it, which lead to Nexon. For some reason, everyone connected with the car! Yes, it had a small boot but, it felt good. A car that might vibe well with us. However, the test drive was unavailable. We were offered to test drive Harrier. Of course, We loved Harrier. A bigger and a better car than Nexon. Felt very much similar to Hector in leg space and boot. Felt the 'door thud' that was missing in Hector. So, we added Nexon & Harrier to our shortlist.
We skipped Nissan, Renault, Volkswagen & Maruti as they offer no diesel engine. Skoda was already off the list due to the service station being nowhere near my place. Jeep Compass did not interest us in any way. We decided not to look at Kia as our neighbour has Sonet, so it'd be petty on our part to match them as per my mother. (I am sure Kia would not even have thought of losing a potential customer because of this reason!)
The dilemma & decision
A week or so passed with hardly any talk in the car. Each was busy researching their favourite car secretly. The talk had to happen at some point and it happened after 2 weeks. The shortlist was Creta, Nexon, Harrier & Hector.
We had fun dicing each other's preferred car. A funny conversation went as below:
Mom: In a couple of years, your daughter cannot be sitting on our lap in the car. So, to seat us (mom, sister, daughter & me with chauffeur driven) comfortably, it'd be better with Hector or Harrier against Nexon or Creta.
Me: Okay.
*a few seconds later*
Mom: If you have a second kid…
Wife: *Stares at me*
Me: Mom?!
Mom: You are planning, aren't you?
During each meal, the discussion was about glorifying Hector and convincing my father about Hector. He listened, always and reserved his judgement for later. Finally, father then said, "Don't care to bother spending extra few lacs as a one-time fee to buy. But, care about the recurring cost it brings along with it."
Remember the calculation on running cost? The man has done his calculations. Based on his enquiries within his circle of contacts who own the said vehicles, Harrier and Hector give about 11 to 13 in mileage. At 12 km/l, That meant for 200,000 km we would be consuming 16,600 litres, a whopping 66% increase in fuel. Assuming the average price at Rs.100/litre, that's Rs.6.50 lacs cash outflow. Also the addition of Rs.5 lakh on the cost of the vehicle against our budget of Rs. 15 lacs. It roughly translates to Rs.11 to 13 lacs over a period of 5 years.
If Hector / Harrier,
Car Cost: Rs. 21 Lacs ( Shine Variant – Hector or Rs. 24 lacs for XZS in Harrier )
Fuel Cost: Rs. 16 Lacs ( 16,000 Litres for 200,000 kms @ 12 kmpl )
Total Cost: Rs. 37 Lacs ( Excluding Service Cost )
If Nexon / Creta,
Car Cost: Rs. 15 Lacs ( XZ+HS Varient )
Fuel Cost: Rs. 11 Lacs ( 11,000 Litres for 200,000 kms @ 18 kmpl )
Total Cost: Rs. 26 Lacs ( Excluding Service Cost )
Difference of Rs. 11 lacs over a period of 4 to 5 years for a car? The total cost for Ciaz was only Rs. 23 lacs including the cost of the vehicle.
The decision was made to score out Hector and Harrier from our list.
In short, we became aware of the fuel cost difference so we had to choose a smaller car to fit our needs on mileage.
Nexon wins for its Safety!
The battle was now again between Creta & Nexon with everyone leaning toward Nexon purely because of value for money! We visited the TATA showroom again and took a test drive. Magically the car got an instant thumbs up from Mother, Wife & daughter. Everyone loved the ride. Dad was comfortable with ingress ( Even if he was not, he would not have uttered a comment, as that would escalate to chaos again! ). Mother was okay with legroom. The wife was comfortable with boot space and the daughter was super happy with the sunroof.
Weird Customer Service
I inform all Sales managers not to call me until I respond back on my decision. Every showroom respected my word. In fact, I called up MG to inform them about the decision to drop Hector. He replied back saying he'd look for us again later. Wonderful. But, it was Tata who kept pestering often with calls on the purchase decisions. When I cut back saying I need time, the response was, "How long you'd take?"
Anyway, we went ahead and confirmed the booking for XZ+(HS) in April. Now, I am not a fan of the 'White colour band' that surrounds Nexon's exterior. I preferred the Grey band that came with White colours. A quick search on google and I found pictures of Foliage Green with a Grey band. Everyone loved the Green. So, I informed the sales agent of the reason for my selection of green. He assured me that Foliage Green comes with Grey Band and not White. So, the booking for XZ+(HS) was made on 5th April 2022. and was told a waiting period of 80 days.
Once the booking was made, I kept my eyes on the road looking out for Green with Grey colour bands and I found nothing. All of them were White colour bands. I made a call to the Sales Manager a week after my booking. He assured me that the 'Top-End' variant comes with Grey. Couple more weeks go, and I still fail to spot any green-grey combination Nexon. Worried, I Whatsapp him again. He assured me that the Variant I get would only come with Grey Band and there was no reason for me to worry. While he sounded genuine and I find pictures of Green with a grey band even on TATA's website, I avoided the panic.
About 25 days after my booking, I got the call that the vehicle has been allotted and he duly forward the VIN number with ETD of a week. A quick google search on VIN revealed that it was April manufactured. A week later, I got a call saying I can do a PDI and within a day or two arrange for balanced funds. Eagerly, I went to the stockyard to have a look at the Vehicle.
Surprise, Surprise, It was a Foliage Green with White Band. I was shocked and disappointed. I politely enquired with the Sales Manager, only to be told, that the grey band is a random allocation for Foliage Green and not something dealers or customers can choose. How is that even possible? Is choosing your Car Colour a lottery now? Instead, I was offered a Grey Paint Job on the band for Rs.8000 + GST or he'd put a request for a grey band to replace for which I have to pay. Agitated on the happenings, I put forth evidence of my conversations with him. He did not budge for a second. The attitude was mostly, 'Take it or Leave it'.
Now, I have to choose whether to let go of the car or go ahead with the purchase. A quick call with family members was made, and We decided to go ahead with the purchase. By this time, the Ciaz was sold as well. So I desperately needed the car.
Completely mad over the mistake, I went back to the showroom. He said, he would discuss the issue with higher officials and get back to me later in the day, which he never did. The discussion was now about Accessories. I was only given Mat and Mud Flaps which were already charged to my Invoice for Rs 3000. I ordered Scuff Plate, and upgraded my ordinary mat to a 3D Floor Mat, Trunk 3D Mat, Mobile Holder, Number Plate Guard, Door Edge Guard and Underbody coating totalling for Rs.11,632. A measly discount was offered. I paid the outstanding amount the same day and informed my delivery date to be a Friday morning between 9:30 to 10:00 AM.
Spooky Delivery Experience
We arrived at the showroom at 9:00 AM on 13th May 2022 only to find that all Managers were held up in a meeting with a Senior Manager. It went on up to 9:45 AM, when another family who was there to take delivery of their vehicle, got agitated. He pushed them for immediate delivery, which hurried the process. Meanwhile, I waited for my Temporary Registration ( Which happened 2 days before the delivery date ), Invoice and Insurance.
Now, My driver went on to do a final Inspection of the vehicle before delivery. The vehicle was great, but the underbody coating was not completed. The reason was they had too many cars to be serviced for the past 2 days. So, I was promised to complete that during the first service. And I was told the number plates would be available after registration as they would not hand over a blank number plate. It was fine with me.
Now, while looking at the Invoice made for accessories, I found out that they excluded Underbody Coating and inflated the price of other accessories to match Rs.11,632. They gave an Invoice for Rs.11,500 and another Invoice for Rs.150 as labour charge for fixing Mudflap. This way, I had to pay an extra Rs 18 (Though, I was not demanded to pay the same ). When I asked my sales manager, he said, the underbody coating would be done free of cost during the first service and not to worry about the Invoice.
By this time, the Sales Manager was lucky my father was not there on that day. He'd have taken him for a ride. He was angry about the wrong colour band already. Being my first car purchase, I decided to let go not knowing whether these are petty things to worry about or I am being scammed. My wife told me not to worry about the issues and I moved on.
Moving on to the next, Temporary Registration. Now, the car was taken delivery in Madurai District and I am from Theni district. So, I was told a Temporary Registration is a must. Post Temporary Registration, The showroom would register my vehicle in my RTO. This was informed to be during booking and I made the payment for RTO fees as well. Now, I was told the vehicle was Temporary Registered in Madurai, but the Temporary Paper registration papers would be available within 2 to 3 days from delivery against his promise of handing over temporary papers on the same day on delivery. Now, this was an issue, as the car had to be on road for my business visit the same day! He informed me to just take a print-out of the Temporary Registration Number (which I received as an SMS from RTO on May 10th, 2022) and affix it on the windshield. I asked if this is legal, and he said it was legal and asked me to carry Invoice Copy, just in case. I let go of the delay in handing over the Temporary Paper as it was Friday, and his promise was just two days.
The next issue is the spare car key. After taking delivery of the Vehicle, I asked the Sales Manager for the second key, and he said due to the semi-conductor shortage the spare key would be available during the First Service. I asked why he had not informed all of these beforehand, and he rudely said, this is the norm. By this time, I was getting late and mostly confused if these issues are normal or are I was being scammed.
We took delivery of the Vehicle on 13th May 2022.
The First Service
By 18th May 2022, The car clocked 1800 Kms. So, I sent the car with my driver for the first service and the underbody coating. Upon reaching the service station, the Service Manager confused my driver saying they could not undercoat my car because I did not buy their "PERSONAL INSURANCE" along with my car. Surely, my driver is way more knowledgeable and gave him a mouth on the equation between Insurance and underbody coating. He called me fuming about the idiocy of the Service Manager. I called my Sales Manager and politely enquired on the issue and he promised to sort out the issue. To their full credit, it was sorted in 5 minutes as "Misunderstanding". The car was promised to be handed over by evening, which they did.
I had previously informed my driver to get the spare key as promised during the first service. Upon enquiring, the Sales Manager generally receives the car between 2 to 3 months for the first service and not within a week. So, the key would be available after two months. Again, I gave him the benefit of doubt and agreed to get the spare key once available. But I did inform him he could have been more specific on the date.
The RTO Issues
On a Parallel track, a couple of days before First Service, I was in touch with the Sales Manager for Temporary Registration documents. I was told, that once he has the original documents, he can only then proceed for Permanent Registration. He assured me, It'd be with him within a couple of days on May 13th, 2022 ( Temporary Registration was completed on May 10th, 2022 ). Now, he informs me that papers would be with him only on Saturday ( May 21st, 2022 ). 11 Days to get Temporary Papers? I gave him the benefit of doubt yet again.
On Saturday, 21st May, I was told he holds the Temporary Papers and he'd courier the documents to my address. I was baffled. Because it was his words that he'd complete the RTO at my district and I paid him in full for the same. He now says, he does not have any 'contacts' in my district so I would have to do the same by myself.
So, after 12 days of Temporary Registration, and about 30 days from my payment, the Sales Manager now says, it's my duty to get the RTO done. Again, politely, I asked him to return the RTO amount by cheque. To their credit again, the cheque was handed over to me on 25th May 2022.
On 27th May, I got my RTO completed by myself and by evening I get my number. So, I call up the Service Manager yet again that my vehicle registration number has been allotted and I need the number plate. Now, he informs me, It'd take 3 to 4 days to get the number printed and hand it over to me. And it was finally the Number board was given to me on 8th June – 26 days after delivery of the car and 12 days after RTO.
Am I paranoid?
Being my first involvement in a car purchase, It's difficult to ascertain if these are common issues faced by everyone or if was it just me. Agreed, that nothing can be perfect, but these issues could certainly be avoided.
Concluding with the issues I faced
First Issue was the wrong Colour Band against promised Colour. I booked Foliage Green with the purpose to avoid the White Band. I was allocated a White Band. Certainly, this could have been avoided had the Sales Manager informed me Green comes with the White band and I would happily have booked White Color which came with Grey Band. Now, I have to live with this White band for the next 3 to 4 years.
My View – I compromised.
Accessories Billing Issues – This could have been avoided, though, after a month, it looks petty and doesn't affect me, as I was given the underbody coating. But, what could have happened if my driver did not inspect the underbody before delivery?
My View – In retrospect, not a big deal. Would give the Sales Manager the benefit of doubt.
Temporary Registration Paper Delay – Because I am not aware of this, I cannot take a call if this is a normal delay or what really happened. In short, there was a delay in handing over the Temporary Document by 11 days. I did check if there was any foul play by scrutinising the documents, however, everything seems perfect. But why the delay of 11 days? Temporary Registration happened on 10th May but documents were handed over 11 days later? Is that normal?
My View – The delay in handing over the documents bothers me to this day as I could not get a reason. But, no damage done on papers or am I missing something? Overall, glad that this was sorted. So, Giving the Sales Manager the benefit of doubt.
Change in RTO Formalities – Why was there a delay in communicating to me that RTO had to be completed by my side? Why did they receive the funds from me for RTO? Agreed, I was given the funds back. And the formalities were duly completed.
My View – Why the false promise that RTO would be completed by them? Giving credit to the Sales Manager for issuing the refund within two days, So, would give the Sales Manager the benefit of doubt.
Why the delay in handing over Number Plate? Is that normal?
My View – No idea. Completely baffles me given that other cars were delivered with number plates with registered numbers. Maybe because I am from a different district?
Spare Keys & Underbody coating Issue – Clearly a miscommunication happened here. What would happen if I misplace my key and what if my Driver did not check the underbody?
My View – Key was a miscommunication. He surely would not have known that my car would be due for the first service within a week. For underbody, I would not like to speculate on if's and buts and judge them. So, again, giving the benefit of doubt to them.
From a Spooky to Good Experience
Looking back was I paranoid during the process of booking and post-delivery? I completely agree that nothing can be perfect. It's just that, things could have been different had the Sales Manager communicated better to me and comforted me, rather than giving an attitude that came across to me as "My way or Highway".
The first issue – a big letdown – was the Colour Band and that certainly impacted my view of the Showroom and made me cautious of their further actions. Because of that experience, what it did to my mind was make me look at everything with suspicion. If that one experience had not happened, the other tiny issues would not come across to me as a big deal, as everything was sorted out then and there. Overall, this should have been a positive experience. Yet, it lead me to have mixed feelings about the entire process itself and question the showroom credentials.
But, I am so glad that the car has had no issues until now. Everything looks and seems to run perfect and I am so glad for that. The car has now clocked 6000 km this month and waiting for my second free service probably by this month's end.
Car Observations
I have read so many great reviews on Nexon. So, I would try to share my observations comparing Nexon to Ciaz (Though completely different cars). While my writeup might come across as criticising Nexon, it's actually not. This is about me getting used to Nexon and differentiating Nexon from Ciaz. Also, We choose Nexon not by evaluating the interiors/features/usability/mileage. Nexon just fit into our budget perfectly. Knowing fully aware that the car might not suit to our liking, we made the booking. This means we cannot complain about the features. We can only adapt ourselves to the car which is not a big deal in life! So, this is more of us getting used to Nexon coming from Ciaz.
Exteriors
Nexon looked fantastic to our eyes. We love the way it stood in front of us. Ciaz felt like a tamed, cute, cuddly cat. While Nexon stood before us like a fox.
The car is not "smooth" on the exterior with too many 'bends' where the dust can easily settle. For example, The rear taillight is protruded and that means, a place for dust to settle. Ciaz had a plain rear exterior, so dusting was easier. I find 4 'bends' just above and below TATA Logo where dust can settle. Similar bends are found in front as well. Maybe because of the wind during drives, dust doesn't settle.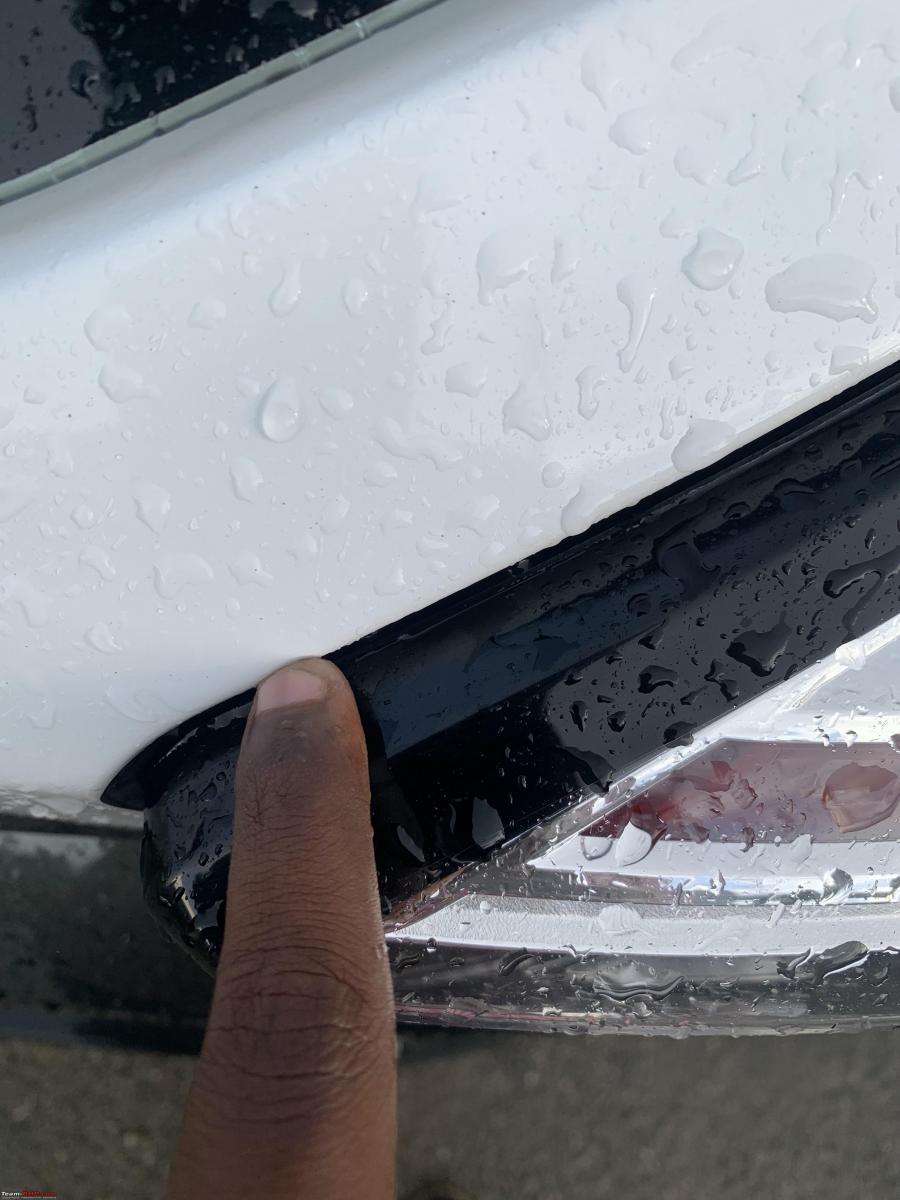 Huge ground clearance which meant roads (speed breakers) were conquered easily. I had to drive Ciaz diagonally at times to cross speed breaker just near our house. With a fully loaded Nexon, it was no issue.
Interiors
Upgrading from Ciaz to Nexon seemed like an upgrade from Nokia to iPhone. The instrument cluster is now digital – Eyes took a while to get used to. It looked simpler with Ciaz. Here, TPMS occupied the top right corner along with the top row taken by Cruise Control information and seat belt reminders. Only at the bottom, I could look at ODO, Trip meters, distance to empty etc. I realised how much I was used to being an analogue guy in a digital world. The difference was sharp and takes time to get used to.
Another subtle upgrade over Ciaz was the steering wheel. I loved the small extension at 10-2 driving position on steering. It was a neat addition if you use the 10-2 positions. I only wish the horn pad was a little bigger in the area. Anyway, sitting in the Nexon driver seat felt majestic to a sedan.
Interior door pads are mostly made of white fabric which means prone to dirt. Within a month of usage, I can see the change of colour. I am pretty sure this would turn to brown by the 3rd year. Any idea on fabric cleaners for cars would be a great help. I badly need one.
I did not like that the door unlocking button was placed in the centre console and not on the driver's side door pad. My daughter could not easily reach for the buttons.
Storage Areas
I have a love-it-hate-it relationship with storage pockets in Nexon. I love the rectangle storage box near Hand Brake. It can hold your wallet or keys and you can close it too and looks neat. However, the USB slot area above the gearbox is not great. If
I plug in my USB, the space is pretty much useless as it already holds the car keys. If I plug in my dual port USB charges, it's a mess. So I adjusted myself to place the keys on the driver's door pad and free up the space. This way, the place is just for USBs and coins.
The water bottle holders on door pads feel weird. I had to store my bottle in a horizontal way rather than a vertical one. Ciaz's door pad had ample storage and was very comfortable. Maybe I am not used to Nexon's yet, but taking out a water bottle and placing it back again takes practice.
The umbrella holder looks good, but how often I am going to take the trouble to fold and insert it into the holder? Might as well drop it in leg space or under the driver's seat.
What I liked in Nexon are the bag hooks placed discreetly in the car. There is one in front leg space, a couple more in the rear and another in the boot.
I liked the space in the glove box. There are two separate cabins with the top being enough place to hold just a book. It's spacious, got a pen holder and pockets to put in small boxes too.
Infotainment
Ciaz did not have infotainment, so this was a first for me. While making the booking, I was excited to use technology, but on usage I found it to be not that much of help other than for the reverse camera. The brightness was irritating during night drives and switching off the display is not an easy task. Even when the display is off, an increase in volume or change in FM station it brings back the screen alive. Much worse, the display brightness cannot be changed when headlights are on.
I read reviews that the infotainment lags in responsiveness. Coming from a car that did not have infotainment, this was not an issue. If I were to compare to Hector's infotainment, Nexon is way behind.
Rear Seat
The rear seat is more comfortable than Ciaz. Accommodating my Wife, Mother and Myself in the rear seat felt more comfortable than Ciaz. Maybe the seat length is a little shorter, but I feel the thigh support is way better than Ciaz. But legroom suffers compared to Ciaz, but it's not like XUV 300. The difference is negligible.
I love that the rear seats are foldable. So, that gives me an option to increase boot space when I travel with my Wife and Kid. Also, behind the left rear seat, there is a socket which I guess can be used for charging too. I have not tried so far.
Boot Space
Nexon claims 350 litres of boot space. But, for a heavy bag packer like me, this would not be sufficient. Ciaz had a wide and low mouth which meant even kids' cycles (I carry them every time I travel with my kid ) can be placed along with suitcases on the sides, without loading on top of the cycle. Here it's impossible. It has to be either the kid's cycle or suitcases. So, getting used to packing for Nexon might take a while, I guess. But, I love the bag hooks and a strap to hold articles.
Driving Comfort
My chauffeur and I absolutely love driving the Nexon. The car truly behaves well on road compared to Ciaz. When a Fortuner or a heavy vehicle overtakes, Ciaz would tremble or 'shiver'. This was almost negligible or absent in Nexon. Remember, we drive between 80 to 90 and a car overtakes us in our lot. Recently, We took a non-stop drive for 200 km on a highway with little discomfort or back pain. We pulled over only when the voice said "Have a Tea break". This was great because, towards the end of Ciaz's life, I was beginning to get back pain.
My father calls the driving comfort due to the 'New Car' fever that I caught. But, I disagree. There is a clear difference between travelling in a Sedan and an SUV. I only dreamt of the comfort I would have got in Hector, but that's not another day!
Features like Auto Headlights and Rain Sensing Wipers are a bonus for us. Rain Sensing wipers, sometimes, go bonkers even if there is a slight drizzle. So, I hardly use it.
Mileage
First up, I absolutely love the Cruise Control and It's very useful. My driving pattern is mostly 80% on highways, 10% in excellent single lanes and 10% on worst roads. I set the cruise to 80 km on highways. From Paranur Toll ( Outskirts of Chennai ) to Dindigul is about 400 km. On just concluded trip on a Sunday afternoon, we were cruising the entire stretch at 80kms. Being an afternoon with hardly any traffic, the need to override or stop the cruise was minimum. This was the best economical trip thus far. We covered a total of 468 km 85% on the highway and 15% on a single lane and we got 24.6 km/l. We filled it up with 18.57 litres which calculates to 25.2 km/l.
The next best trip was the same route but a night drive, a week earlier, which gave 23.2 for the same stretch cruising at the same 80 km. So, I would say, a boring driver like me would get up to 23 km/l on highways. We drove in City mode and with the temperature at 25.
Within city limits, we drove a maximum of 50 km on a stretch and the trip showed an economy of 18.4 km/l. Purely on single lanes, we drove a maximum of 120 km where we got 21.7 km/l.
Overall, I am satisfied with the mileage.
Present Niggles Faced:
I face a few niggles that need to be ironed out in the next service.
Reverse Camera – The sensor alarm does not work well. At times, even when there is no hindrance, the red line shows up and sound is just blaring all the time.
Second Gear does not slip well. I get a hard 'tuck' sound most of the time. The rest gear glides easily.
The ODO now is at 6500 km and I should be sending the vehicle next week for a second free service.
Check out BHPian comments for more insights and information.

link