The SUV behaves completely fine with 7 people on board but the ride becomes stiff when there are only 2-5 people.
BHPian rudra_shiv recently shared this with other enthusiasts.
I am penning down my detailed ownership review of XUV700 aka RUDRA here.
Take a pitstop and grab a bite to read the Pre-Car Buying Hunt and the D-Day. I will cover the pre-car buying and D-Day very shortly in this thread as well.
By the time I am writing this post, the beast has completed 9k kms within a span of 9 months.
Pre-Car Buying
We had Hyundai EON since 2012 and always wanted to move to a bigger SUV since my childhood. Being a huge admirer of Mahindra Scorpio (RWD and 4X4) was awaiting the same, but a drive in XUV700 changed my want all the way towards it. We did a test drove on the TATA Harrier Twins and concluded XUV700.
What we wanted
A trouble-free SUV with good interior space
I might have picked AX7 but considering its wait and I had thought about whether ADAS would really be useful for me as most of our rides would be 70% inside the city, 20% on highways, and 10% in mixed conditions.
An experience stated in the link above turned me in favor of buying an mStallion motor, though it is a gas guzzler considering a monthly average of 1-1.5k Petrol makes more sense for you.
Budget was capped at 22.5L to the max.
Inclination to buy a beast from an INDIAN Automaker.
Looking to keep it for 15yrs/2Lakh km.
Somehow heart wants to settle to Manual as I am still in my 30s and anyway the future would all be Electric & Automatics.
Finally settled with the VFM AX5 7STR Petrol MT.
We traded the 10yrs Hyundai EON which has just done 45k all these years for 2.25Lks with Ramani Mahindra itself.
Ex Show: 17,18,000
RTO: 2,65,585
EON Trade: – 2,25,000
Insurance: The dealer quoted 1,30,000. Negotiated to 64,500 with the deal I got from Royal Sundaram and Policy Bazaar.
Accessories: They offered me 25k worth of accessories and I liked nothing. Hence politely declined. The ones I preferred were out of stock with them. I choose to go with only the rear bumper.
Hence I ordered the Reverse Parking Camera, Mudflaps, Touchscreen Scratch guard, and front parking sensors (which later I felt useless to max) from M2ALL and 7D Matts from Coozo. All the mentioned ordered accessories cost me 12.5k.
On-Road cost me 20,54,550 INR and including the EON exchange the final invoice was 18,29,550. Above it, I opted for the 2-year extended warranty for 26k for peace of mind.
We were given the Engine and Chassis Numbers. Thanks to TeamBHP's article on decoding VIN numbers. Concluded that the car was manufactured on April 2022.
The car got delivered to us on 01st June 2022.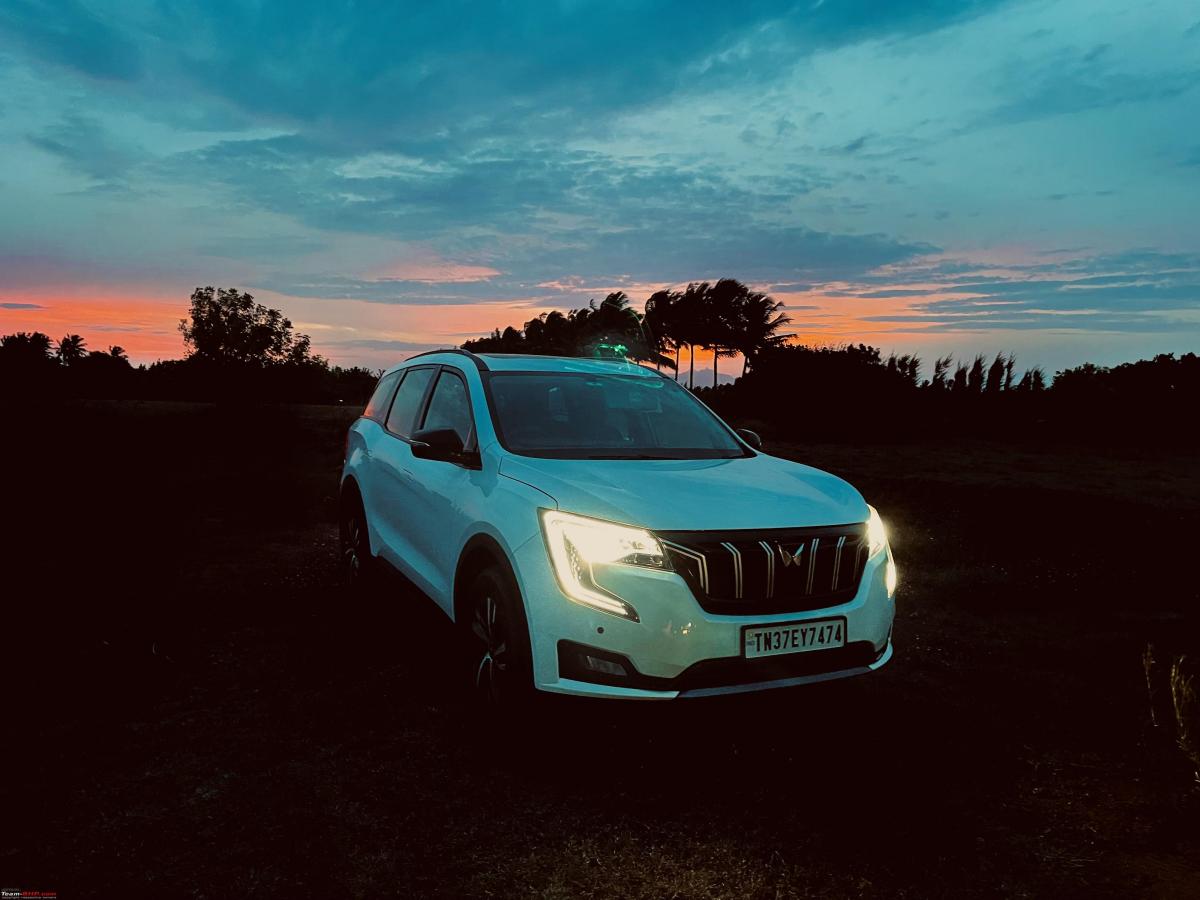 Here is the head turner during the sunset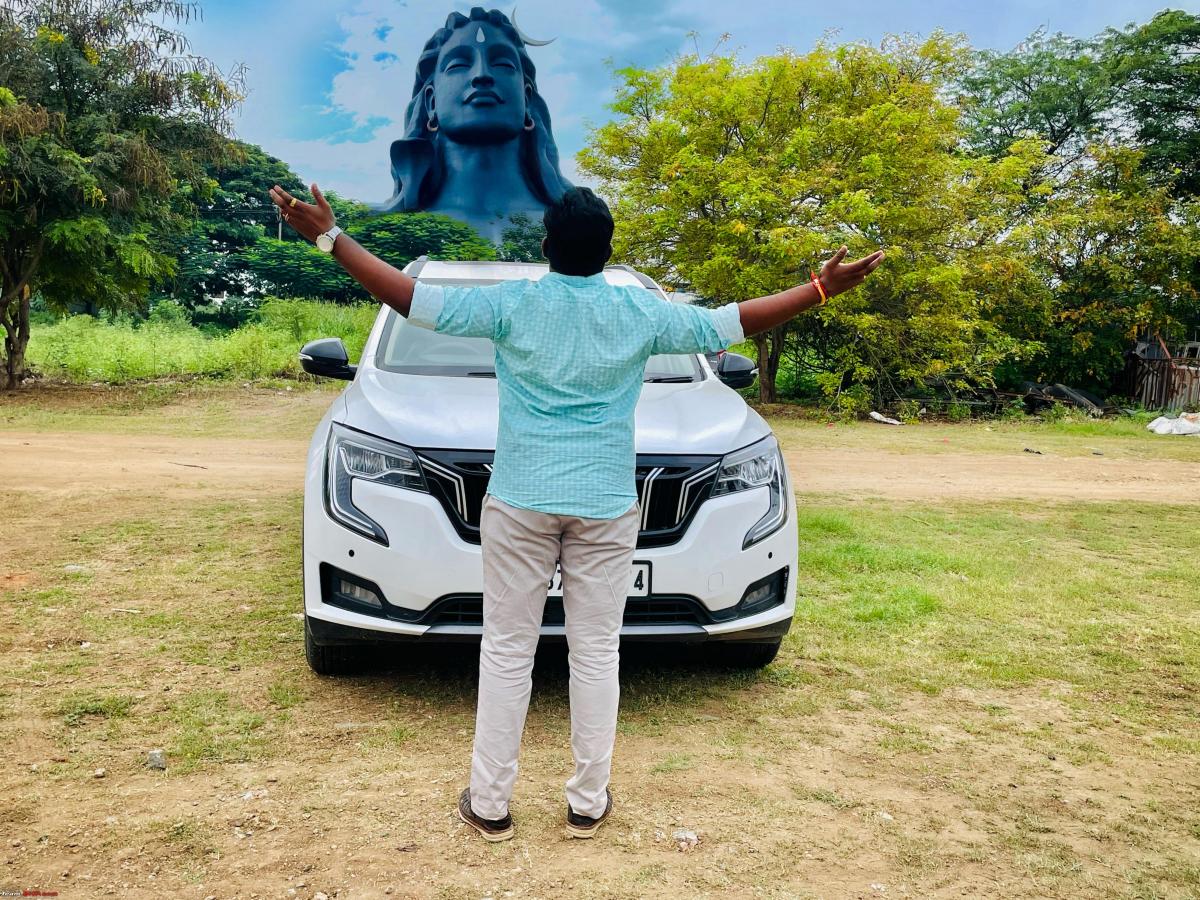 And another lovable pic
Let me introduce RUDRA
With the utmost love towards Lord Shiva, thought to name the beast with a name of himself. And the name RUDRA caught my eye which means the one who drives away evil and praiseworthy – SHIVA.
My all-favourite idol on the dash
Here is the look of the plush interiors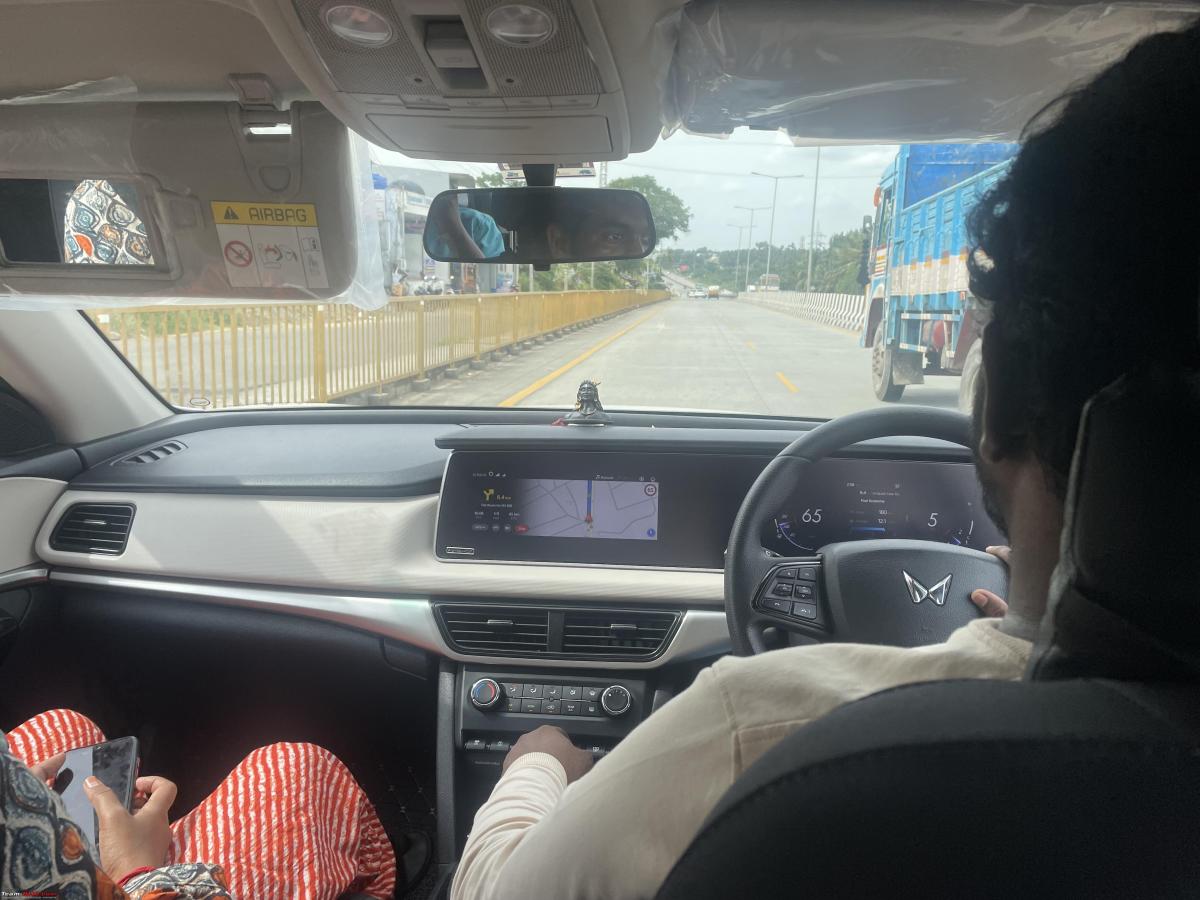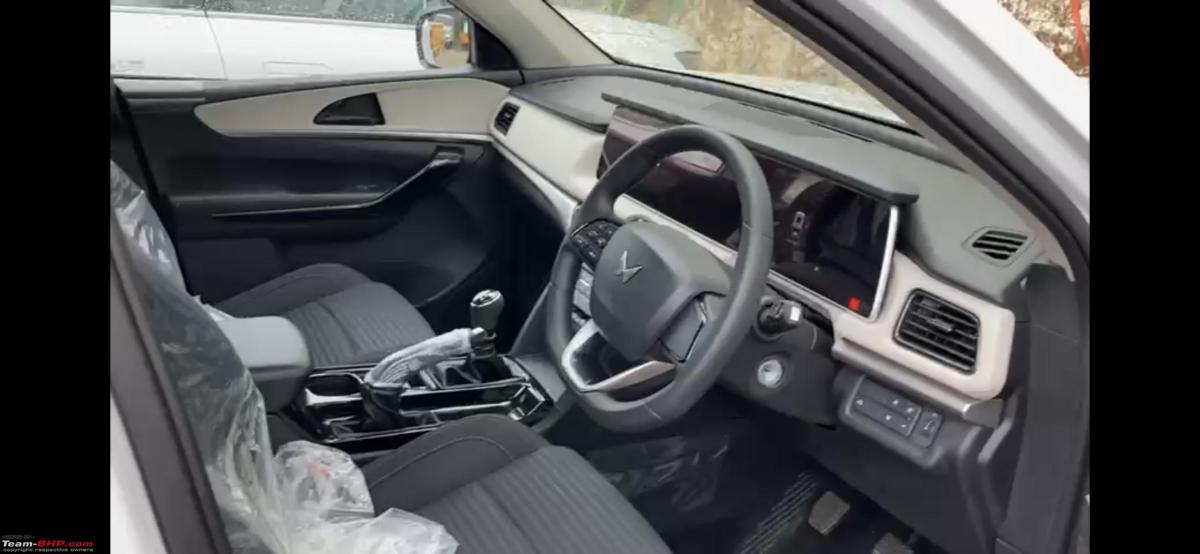 THE GOOD
Aka What I liked and loved
Engine & NVH: Under the hood, the XUV700 petrol variant is powered by a 2.0-liter, four-cylinder turbocharged engine that generates 198BHP and 380 Nm of torque. This engine is paired with a 6 Speed Manual transmission, which provides smooth and responsive shifting. The engine also features a start-stop system, which helps to improve fuel efficiency.
The cabin is well-insulated and the windshields are acoustic-certified. With Petrol being under the hood, the machine is altogether a beast in a beauty's disguise.
Suspension: The XUV700 petrol variant comes with an FSD McPherson Strut independent suspension system while the rear suspension comes with a multi-link setup with FSD and Stablizer bar. This advanced suspension system also provides excellent handling and stability, making the RUDRA a joy to drive.
Though there was the famous "thud noise" it was resolved later through our collaborative efforts.
Interiors: The XUV700 petrol variant features luxurious interiors, which are designed to provide maximum comfort and convenience. The cabin is spacious and well-appointed, with high-quality materials used throughout. The seats are comfortable and supportive, and the infotainment system is easy to use.
The most discussed 10.25" dual screens definitely add premium appeal to RUDRA obviously coming with few niggles here and there.
AX5 also comes with a panoramic sunroof, which provides a sense of openness and airiness.
The car also sports a few bits of good features like a Sunglass Holder, piano black handle for grabbing doors, a decent armrest for front seats and rear seats, internally adjustable mirrors etc.,
The only ambient light the car gets is around the sunglass holder.
Exteriors: This machine has a sleek and modern exterior design, and you will never turning back to see it when you park and walk away from it. The front of the SUV features a bold grille and sharp all-LED Headlights, which give it a bold and commanding road presence. The side profile is sleek and aerodynamic, while the rear of the SUV features a sporty spoiler and a rear wiper washer system.
Being AX5 a mid-level variant it comes with 17-inch alloy wheels with 235/65-R17, which adds a feather to its sporty and flashy look.
Safety: – Apart from what is mentioned in the UGLY section, the car does hold Frontal Airbags and Curtain Airbags that extend till the third row is all welcome & assuring features. The car is definitely assuring to drive but the presence of ESP could have made it a lot better. I have reported this to the Dealership, ASC (CAI), and a few top M&M officials as well.
Steering, Ride & Handling – Featherlight steering along with slicker gearshifts sweeps us while driving it in cumbersome traffic, bumpy road, and open stretches.
Clutch and Gearbox – MT: I was again impressed with the smooth clutch, and though felt the initial gears were slightly notchy, I got used to it very soon. This was a strong point for my decision of choosing the 700. The Diesel clutch felt slightly heavier but had a very smooth feel.
Braking – The 2-tonne machine is able to get halted to 0 from 90 within 30m which is just not good but a great one. I could clearly feel reduced nose dive comparing its predecessor – XUV500.
Third Row AC Controls – Third Row AC controls are definitely a good addition.
THE BAD
Third Row Space – Usable for kids. But this was not a concern to me as mostly travel with 5 people.
Blower Controls for the second row – This could have made a whole lot difference for the people in Second Row.
Missing Sliding Arm Rest and Cooled Arm Rest + Glovebox – These were present in AX7. I am sure this would just be 2-5k job which M&M could have done easily.
Variant-wise features breakup and exposure of delivery to the general public + the sales were really less. Good thing is, they were trained well on how to use the features since all features are present in AX7L which will be the TD vehicle it was easily confusing to everybody around.
THE UGLY
Exposure about ESP in AX5 Petrol Manual
The shocking part was already covered in my initial report. But still would like to reiterate for the benefit of the buyers around.
It was on the Delivery Date we happened to notice another small grenade which neither the salesperson, dealer, or even the experts were clear about it that time. It was the AX5 Petrol Manual variant does not have ESP, whereas the AX5 Diesel Manual features it along with Hill Hold. This came as a shocker but could not do anything other than feel bad for missing it. Really did not know what made M&M to leave this super important safety feature in a 21Lakh SUV.
When we booked, everybody said that the variant is ditto same as AX5 Diesel and just has a different (Petrol) powertrain.
On a side note, I noticed M&M has started adding ESP as an optional package with a +60k pricing. I am sure adding ESP to the existing vehicle is a task but considering lives wish M&M value system finds a way to add it for the safety of their customers. At least 40k customers should be under AX7 variant among the total 65k deliveries so far.
If anybody from M&M is reading this, do consider it.
Lack of a few useable features for AX5
Steering RH Controls + Cruise, Auto Fold ORVM, Boss Mode, Auto-dimming IRVM (unfortunate that even the 28Lakh AX7L does not boast this). M&M are you hearing?
Manual IRVM for 21Lakh SUV
Oh the sweet and half-cooked steering wheel
The most advanced car comes with an irritating placement of buttons on the right to control the MID. Though it was a pain now getting used to it. But still planning to install the RH controls in the coming months.
Space Saver Spare
One of the worst parts is Mahindra offers its tractor tires (155/90-R18″) as the spare tire. This is completely useless as you should not use it for more than 60-100kms. One of my friends faced a puncture while coming from Raipur all the way to Coimbatore (~1000kms drive) he faced a very bad puncture and got into a situation of "NO PUNCTURE SHOPS AROUND" what to do with this spare as he was to do at least 250kms for his next destination/halt.
Only One USB A Port
What M&M has seriously messed up is the USB ports and 12V socket. AX5 offers only one USB A Port in the front and One USB C Port in the rear. 12V socket is given to the third row which becomes a practical difficulty for everything starting from DashCam fitment.
The only way to overcome this is to use a USB Extender and I am still figuring out that.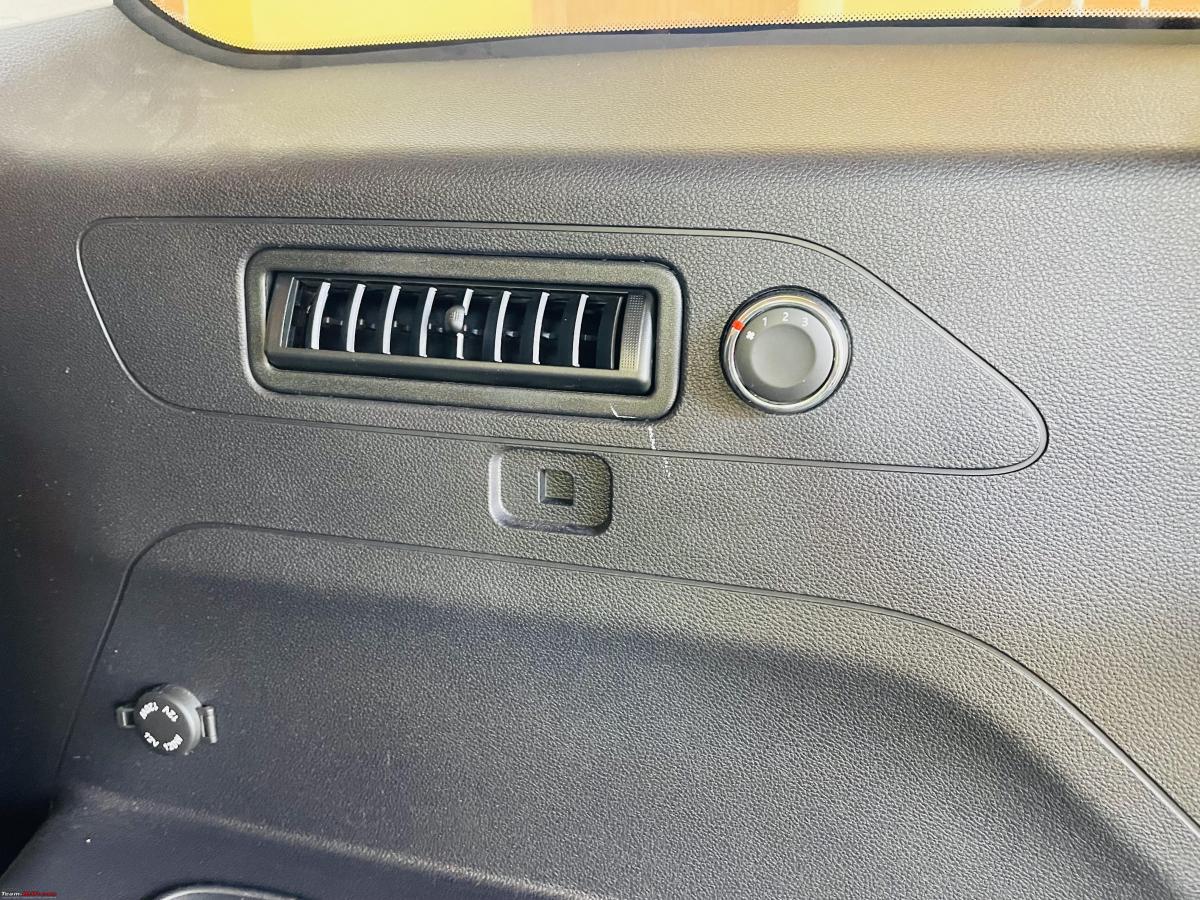 First 1.5k km
The car blazing completed its first service within a span of a month. Newly married travels across houses and temple visits made us cover it to the fullest speed. We traveled a 450 km temple drive and came back tireless. We mostly traveled as 3-5 people with minimal luggage. Seeing MID was a bit of a shocker sometimes (Yup! Nobody prefers seeing 8.5kmpl in MIDs).
Actually, CAI Industries is the nearest ASC for me. Since I took the car with RAMANI, I was inclined to leave the first service alone at RAMANI.
A few concerns left on their note are:
Faced suspension "thud" noise from the driver's side.
Request to install the accessories from M2ALL – Reverse camera, parking sensors, and mudflaps.
Gear shifts were slightly notchy.
I was not happy with the cleaning done. Happened to swirl marks around the piano black areas of ORVM and door panels. Reported back to them. The next day, Arunkumar from Services immediately took an appointment, visited our office to clean it with the rubbing compound, and promised it won't happen next time. Arun agreed about the mistake happened and he was very genuine and polite clearing my few other doubts with the key.
The service Bill was 0 Rs. as the first service is just complimentary.
As RAMANI is 40km away from my house and 20km away from my office, I decided to opt for CAI for the future.
During this course found some interesting things.
You have the option to change the indicator sound
The ECOSENSE is helpful but it does not record all our trips. Wish M&M takes a look at to bring it to a nice shape (For AT owners ECOSENSE is the only place they can see the mileage apart from MID)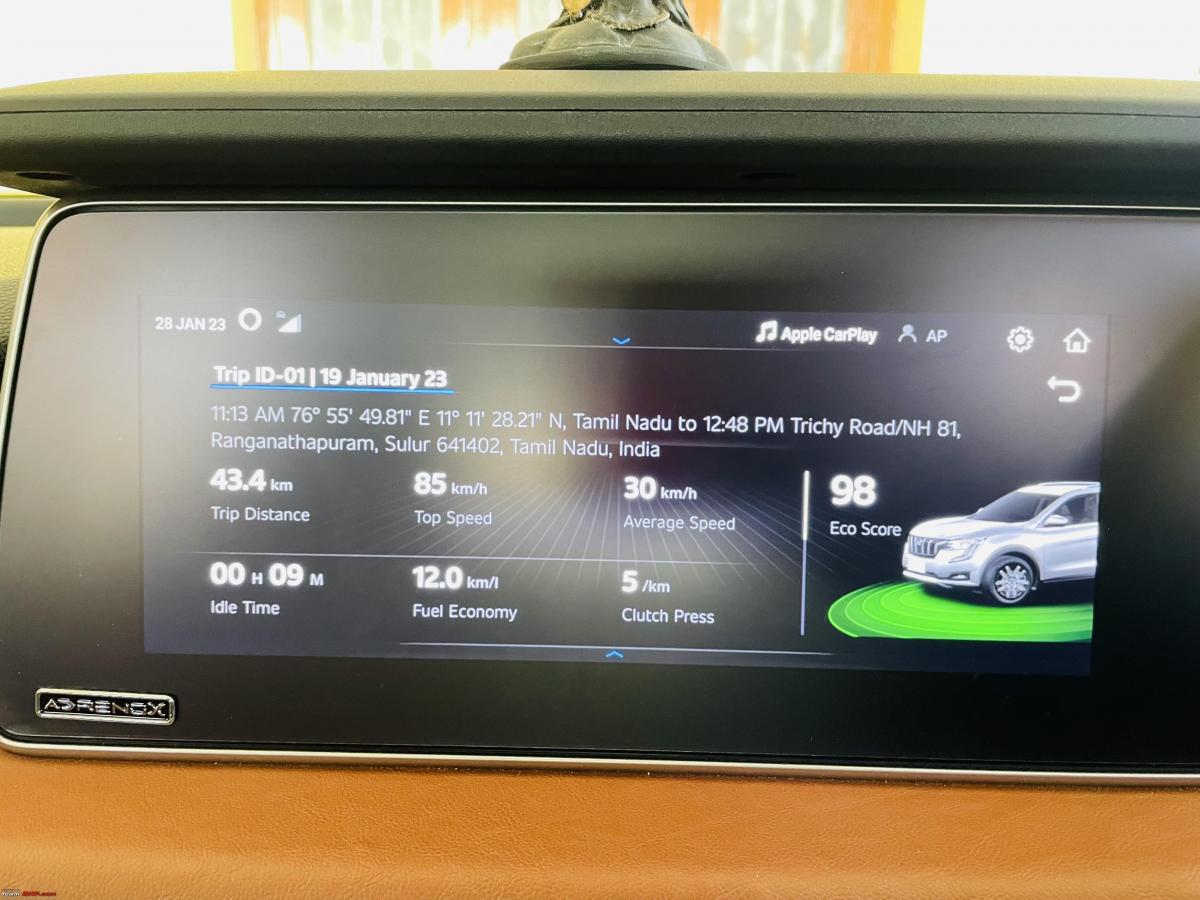 The beast was ready for a short 800km trip from Coimbatore to Kumbakonam.
The overall ride was very good and tireless. We traveled with 5 Passengers with half a boot of luggage. Had a few issues with Alexa's Network Connectivity (Courtesy of Vodafone)
Felt two things, one was a much concerning
Thud Noise continued. This was more pronounced in the speed breakers.
Floaty feeling >110kmph. The car felt very floaty and felt lacking connection with the Tarmac. (I Thought missing traction control/ESP could be a reason).
Reported the same via email to M&M authorities. Immediately the CAI Industries was tasked. I should thank Mr. Dileep and Mr. Ronald for taking immediate measures in addressing them. The good part was, Ronald and Dileep were in touch to understand if the floaty feel issue respawn for me. Fortunately, it did not occur after that.
Had a wonderful 1200km drive with 4 passengers + 75% boot from Coimbatore – Salem – Chennai, which aided me to test the boundaries of the car. The entire drive was super exciting and we returned without a tired (we stayed in Chennai for a night).
Few Niggles
I felt the rear camera was creating issues, hence requested a replacement with M2ALL during July. The replacement took time as M&M upgraded to the new camera module (which is slightly better than the previous one in terms of low-light quality).
AC was not up to mark. It took at least 30-45mins to cool the cabin with the outside temperature being 27-29 degrees. Reported the same to CAI, and they cleaned the internal HVAC filter.
As a response to point 1, they retorqued the suspension. Unfortunately, the issue respawned again and was also in the pedal area. Interestingly, when I posted about this on WhatsApp and FB many commented that they faced the same. Hence, I took the initiative of Google Forms to collect the data of the owners who were facing the issue and posted it to M&M authorities (Mr. Anand, Mr. Velu, and Ms. Asha).
I immediately got a call from the Regional Head. I am glad that he took overall feedback about the vehicle and also promised to address this issue. He mentioned that the issue raised is being discussed internally and those who have raised the concern along with me will be notified of the updates within a month. Very glad that M&M is actively listening to customers. And immediately a pickup was scheduled to address this. CAI inspected my car for a spin and addressed the suspension issue lubricating the bushes. And magically after the service :-p the sound faded away and has not spawned back until now.
The rear camera niggle and the AC issue were addressed during the very same visit. I should really thank CAI. They take the feedback seriously and act on it to their best.
1.5-5k km run
It is August now, beast has completed close to 3k kms. Mostly it is just me, my wife, and my mother traveling in the car. And occasionally with 7 people with some luggage.
The beast was returning a decent 10.5kmpl within City and 12-12.5kmpl in highways (between 1.8-2.5k rpm) – both are tank-to-tank figures.
With September, the beast has done close to 4.5k km now courtesy of the trips from Coimbatore to Isha, Attapadi, Pollachi + occasional city rides along with the almighty.
MID occasionally touched 13-13.5 in highway rides (tank to tank was 12.5kmpl) and kept tight with 11.5 in city rides (tank to Tank for the city was 10.8kmpl) which is not a bad one for this 200BHP beast.
Some interesting additions that I loved adding
Meanwhile, was exploring the options for seat covers and finally decided to go with a tan-themed layout for the dashboard along with Crysta leatherette seat covers. The specific reason to go with a leather theme for dash was primarily the scratchy plastics in the door pads, armrest and dash.
And here are a few pics with the seat covers and the tan-themed dash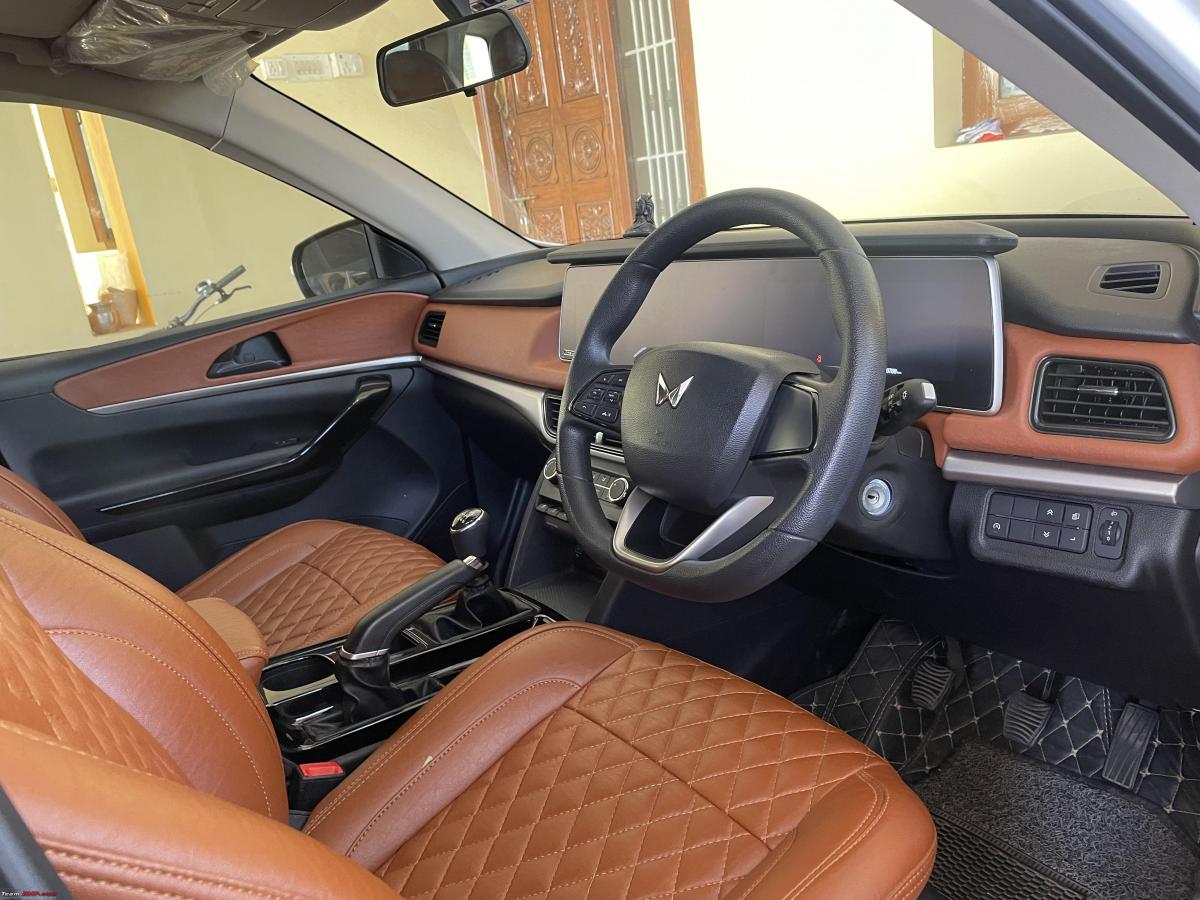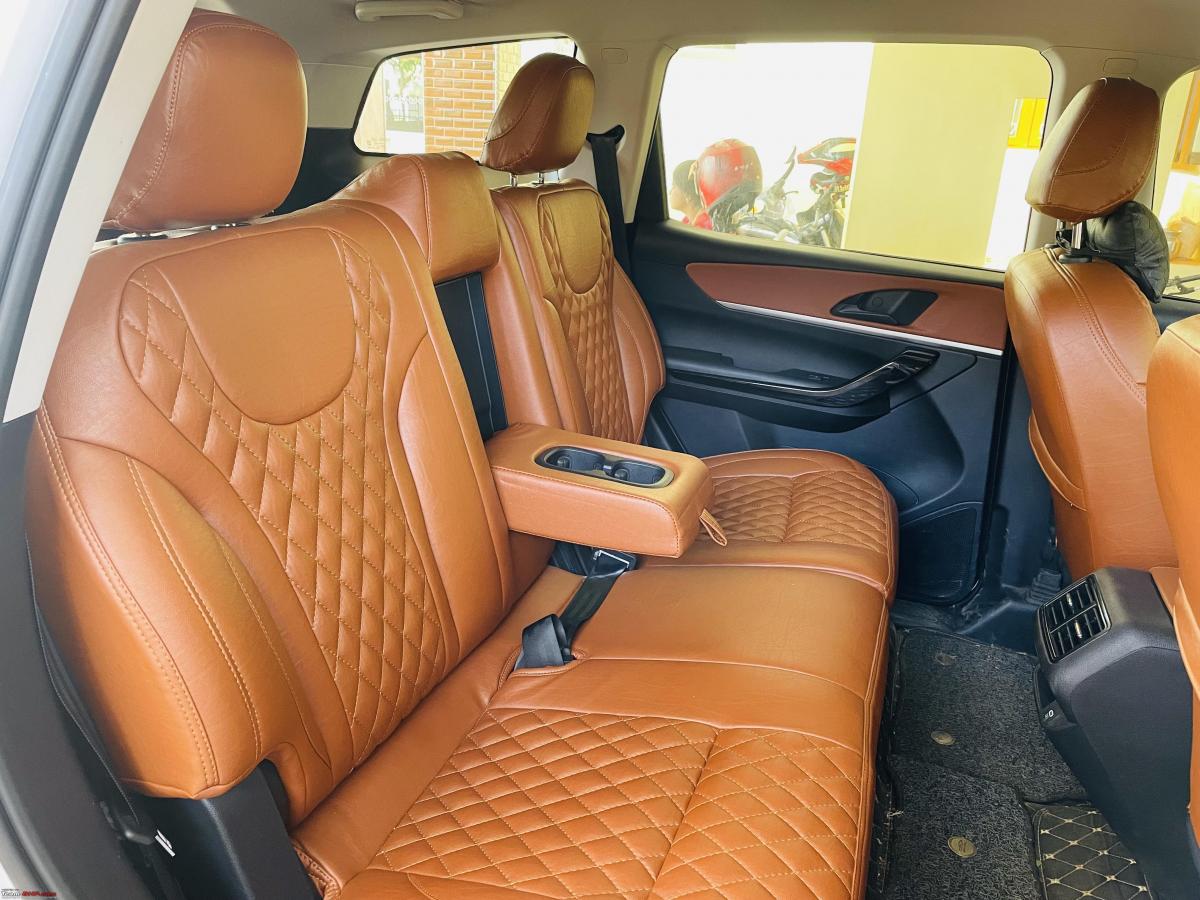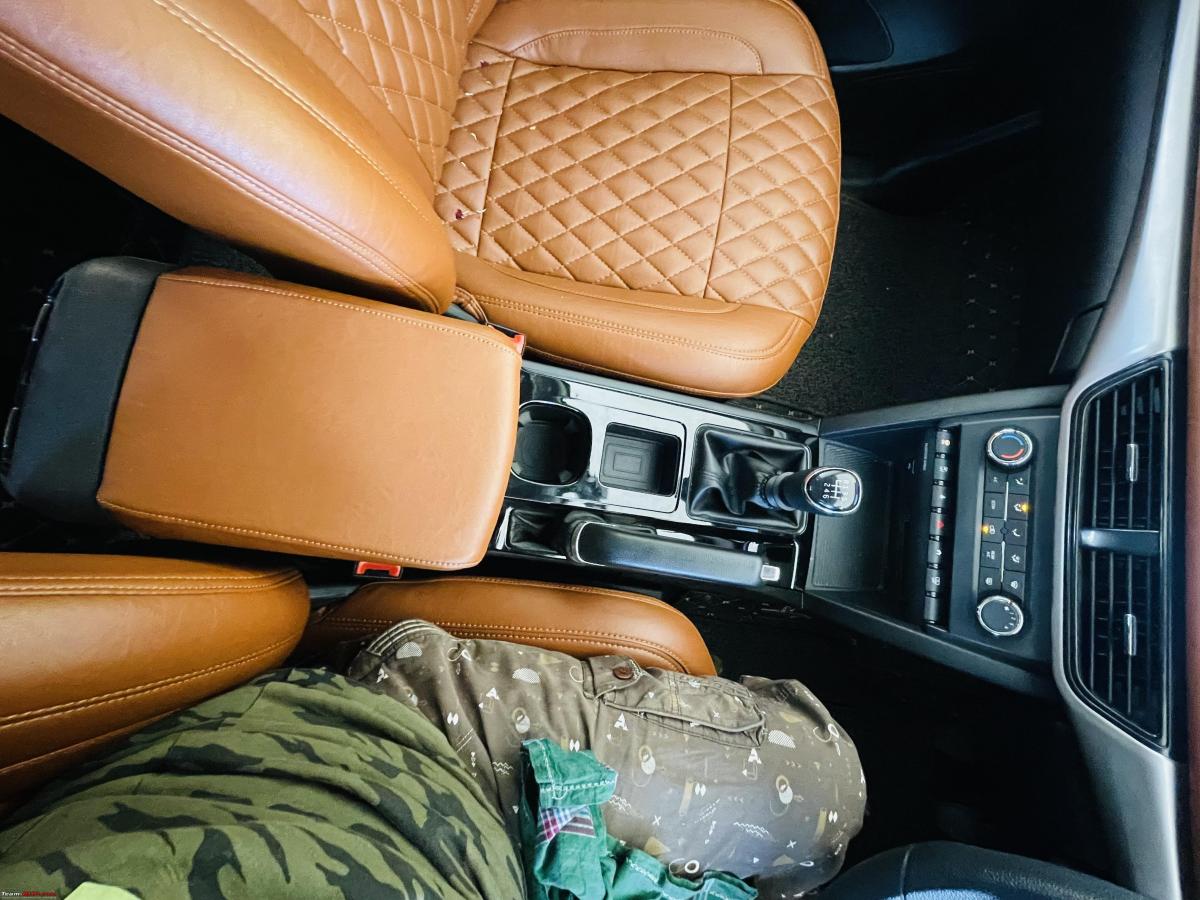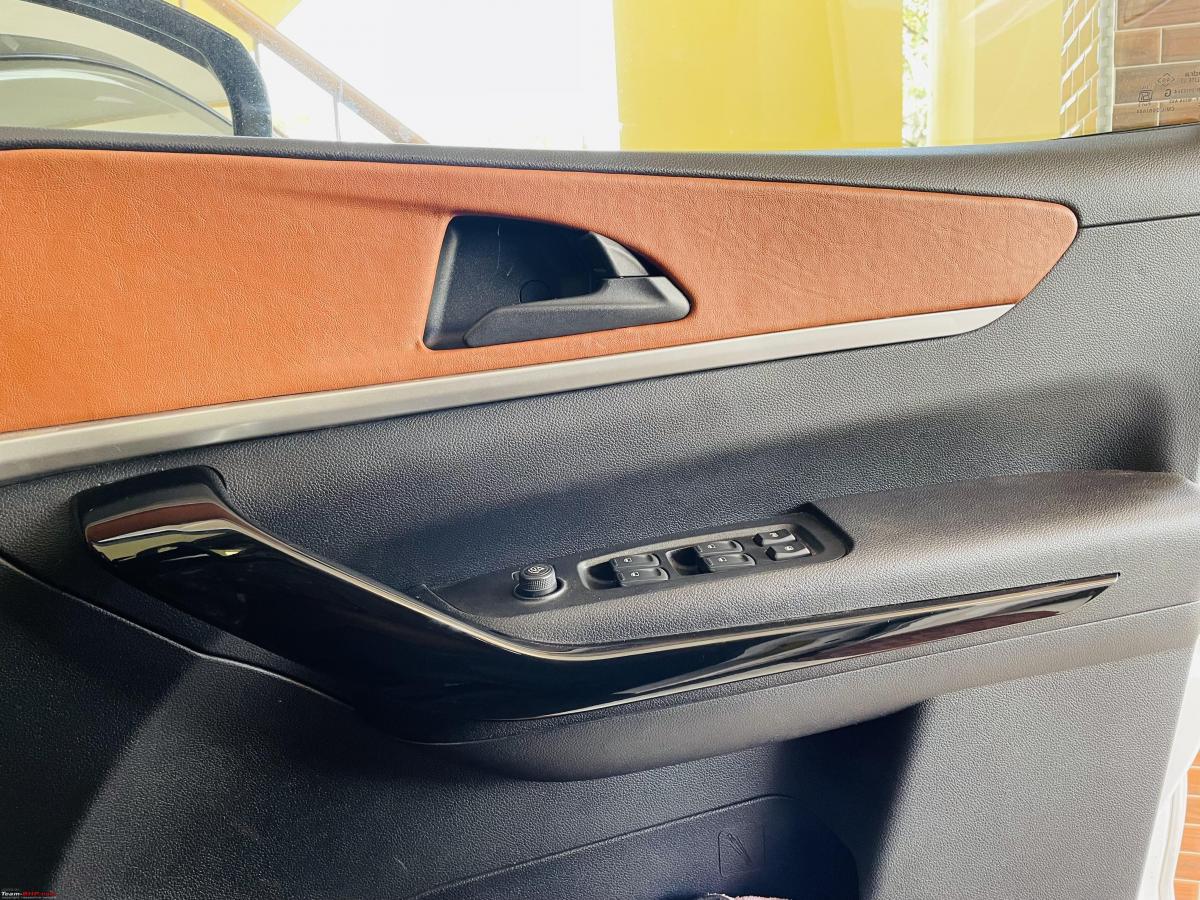 What you get as a boot space when you travel as 7 people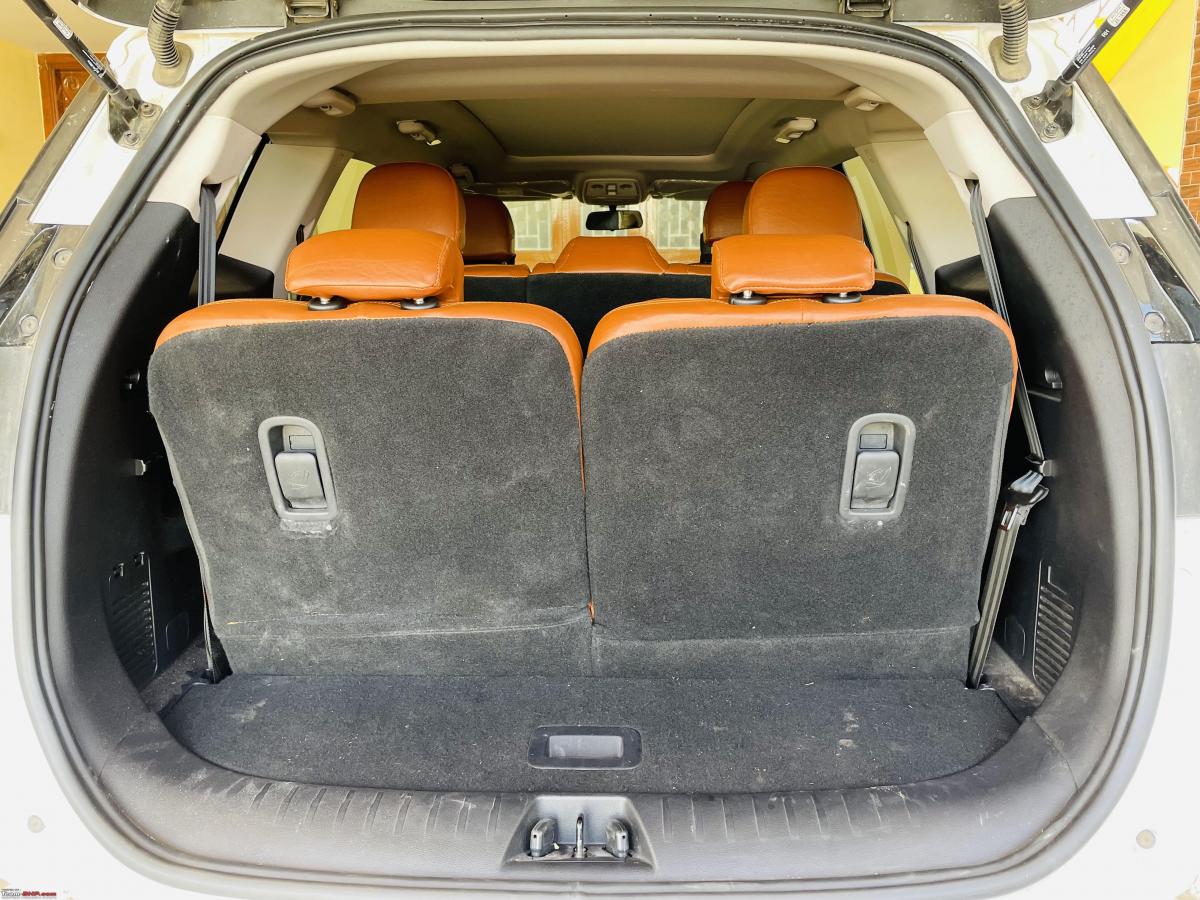 The sense of space with the 3rd Row Folded
A monicker to the financier who paid for buying this beast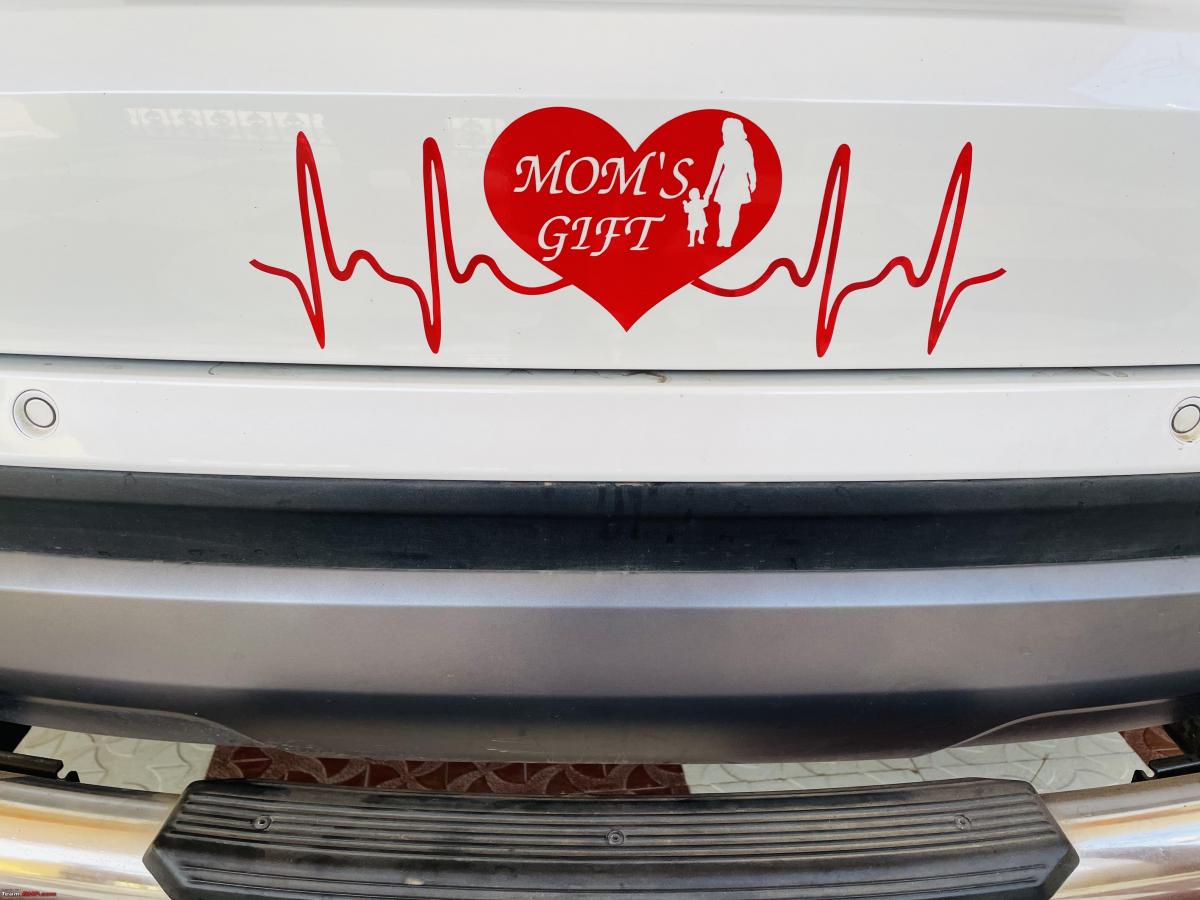 Cooz 7D Matts were added within the initial 100kms itself to save the pain of cleaning the floor of this large SUV (Thanks to Karthik and Santhosh from our XUV700 WhatsApp group for guiding).
Some interesting bits I loved during the course of ownership:
The Dual Screen HD Maps in the courtesy of MapsMyIndia. This is a great map with not-so-great route optimization. If this has routes optimized, this will surely replace people using Google Maps in India.
A cool animation to notify which door/trunk is open. Kudos for this safety feature addition
RUDRA reminds if you forget the key inside the car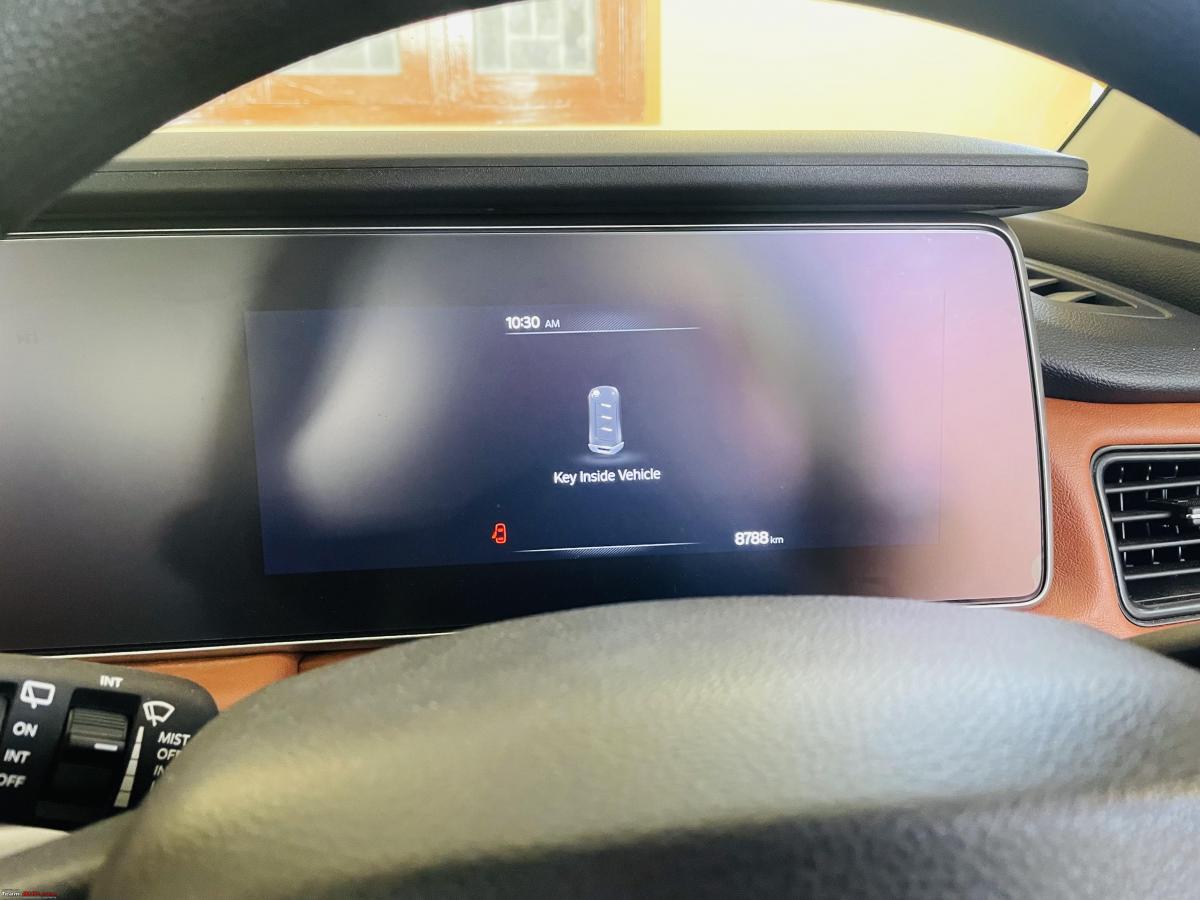 AX5 comes with 6 speakers and 2 tweeter setup with a basic sound staging. To me, this is a good upgrade in terms of audio, especially through CarPlay.
Coming to the most exciting and awaited update for the RUDRA, it is none other than the APPLE CARPLAY
At last how the CarPlay screen fills the 10.25″ screen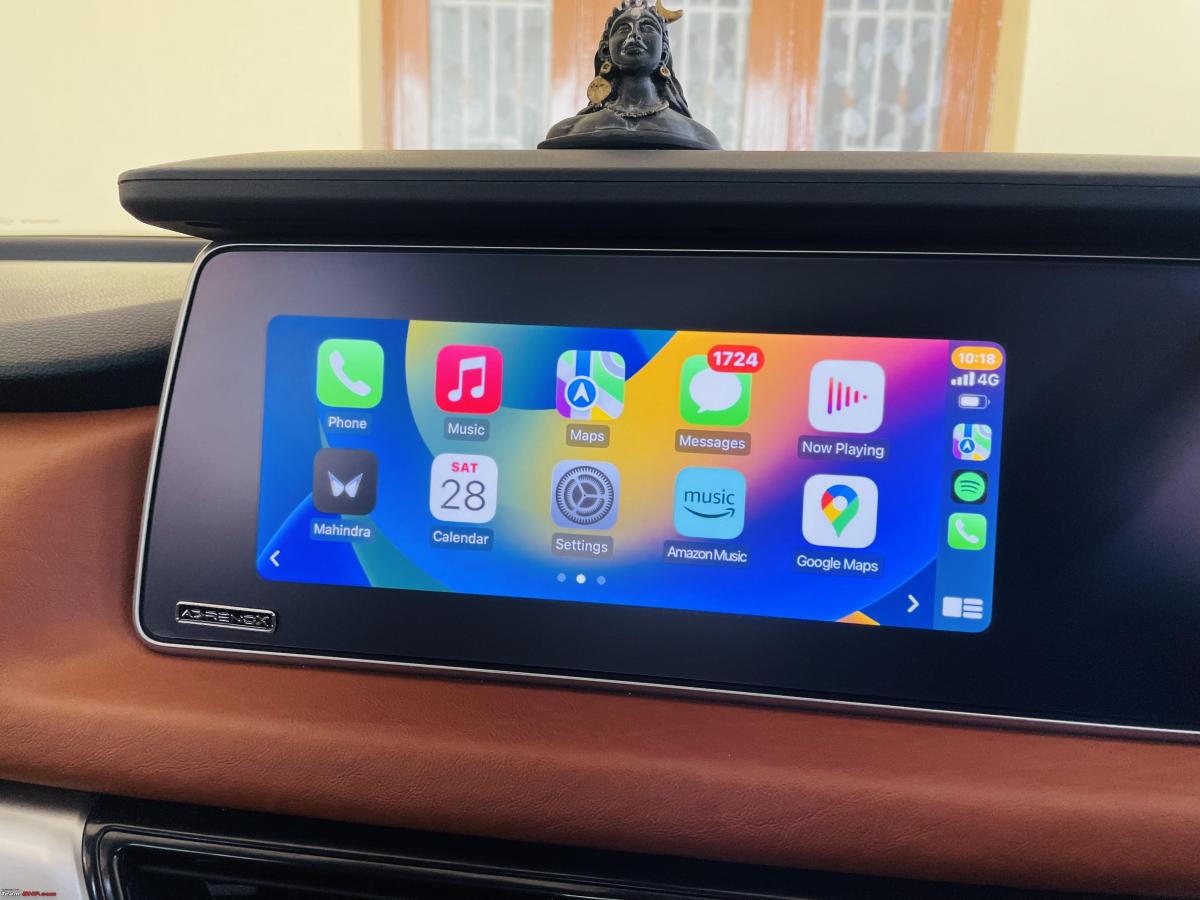 Dual HD Screen Maps with Apple Maps through CarPlay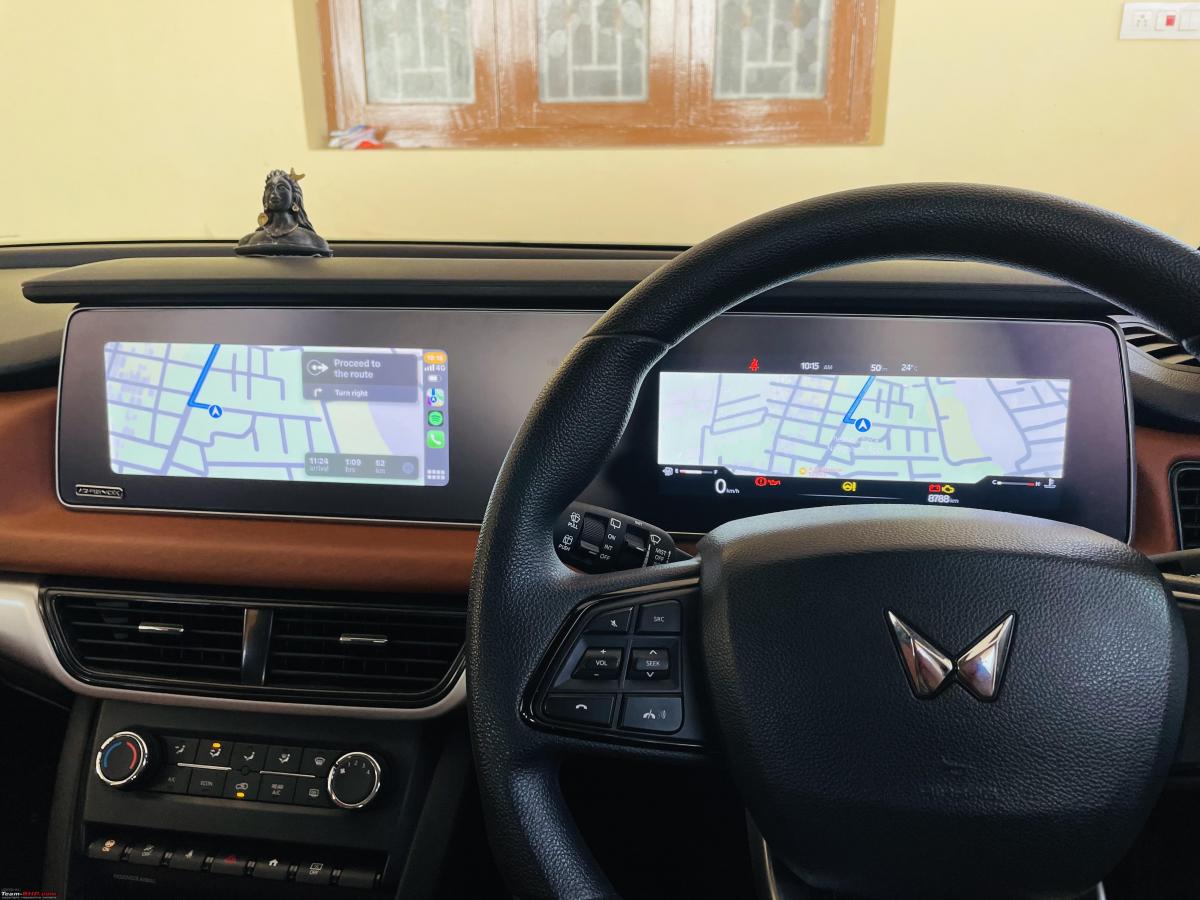 Now the beast has done approx. 6k. Just after installing the seat covers within a week noticed the windshield crack. The team CAI was very approachable. Dileep, Ronald, Vishnu and their insurance team helped me with a hassle-free claim for the windshield. Since it is covered under the insurance the hefty 15k bill ended up paying 2.5k only. (Thanks to the insurance). During this time the EPS Flashing and CarPlay update was done saving another visit to ASC. Kudos to the ASC for suggesting it.
During the 7.5k mark, I noticed a Petrol smell around the car for a couple of days. Reported the same to ASC. They recommended me to get the Canister replacement done. I enquired about the Sequential Indicators, Second Key Fob and ECMS Cover. They confirmed we can do it all together.
Unfortunately, my car was not tagged to the Sequential Indicators recall even though I was given a promise note by RAMANI Mahindra during the delivery. Mr. Dileep assured me he will get in touch with M&M and get me the Sequential Indicators. ECMS cover went out of stock.
Second Key Fob came to Ramani Mahindra. Dileep was kind enough and got the second key from the dealership and mapped it for our RUDRA.
Canister replacement was done.
The car was delivered to me in the evening around 6 PM. During my drive back home, the car stalled in the middle of the busy signal and failed to start. Somehow managed to restart it and settled in okayish parking and reported it to the ASC. The team rushed back and upon diagnosing with the laptop it was found that the P0089 Error – Fuel Pressure Regulator Error.
Cause: Fuel Pressure at the start is critically low. And I was given a Marrazo as a loaner to get back to my home.
I was sort of very much disappointed and had a slight confusion in mind if I have made a wrong choice. Dileep and Ronald reassured me that this will be sorted out. I was thinking about Mr. Mudhalaipatti's thoughts that night about the haunting EVAP he had during the initial course of time. I am sure you all would have read it, thanks to him for the detailed posts about the EVAP and Canister.
The next day (Saturday), the vehicle was completely diagnosed. The team reported me saying that it was because of the faulty fuel pump relay that caused this issue and the same was replaced under warranty. I saw the range dropped more than 150-200kms (earlier was 450 ish when I left it to ASC, when I checked before the billing it was 280ish) hence requested for Fuel top up and surprisingly it was again done for a free of cost. Thanks again for this gesture CAI.
RUDRA was home delivered by the CAI Team. Had a couple of city and mixed highway drives the issue did not respawn back.The car is around 9k mark now. Recently had a trip to Munnar along with the almighty. Altogether it was a short 500km trip up and down.
We stayed ~12km from the Center of Munnar at the place called – Trivers Resort. We stayed there for two nights giving a visit to the viewpoints around and the famous Iravikulam National Park.
RUDRA took the drive all sweet. It was so easy to drive this machine throughout the uphill, downhill, narrow roads in Chinnar. We just stopped once or twice in between the drive for tea and mesmerising views. The trip took away the slight apprehension I had after that fuel pump relay issue and RUDRA kept me smiling throughout the drive.
For the last 3,000-4,000km I started filling in the same BPCL Petrol bunk near me. I could see a good improvement in the FE figures.
The Munnar trip gave a strong 11.6kmpl in the uphill and 12.6kmpl downhill. The overall for this 500km drive stood at a strong 12.2kmpl. The average speed was 50kmph throughout the drive and occasionally went >100kmph.
Approaching the 10k mark shortly. Looking to add TPMS and the RH in the coming months.
I heard M&M is considering other partners for their eSim. The current network provider is Vodafone and Vi service is mostly pathetic. Not sure if I will continue AdrenoX subscription as it costs 4999 as for AX5 the remote controls are very limited. If you think of some aftermarket substitutes like gomechanic kindly share your suggestions.
Some niggles I am looking to solve this 10k service:
RUDRA behaves completely fine with 7 people but the ride with 2-5 people is stiff. Air pressure is 32Psi with 5 people and 35Psi with 7 people.
Wireless CarPlay issues – Currently fed up with using Wireless CarPlay due to the laggy interface and frequent disconnect leading to overheating of my iPhone 12. With Wired CarPlay it is a charm to use. I really wish an update should fix it all.
Some panel gaps especially the rear spoiler and the boot lid.
Slightly notchy gearshifts during the first few kms. After that, it becomes buttery smooth.
Tyre Rotation, WA/WB along with service.
Sequential Indicators + ECMS Cover.
A very small rattle inside the cabin. I wish to fix it in its initial stage itself.
There are two small paint chips and a minor 2cm nails scratch.
I am planning to start using XP95 as a standard. Though M&M has not officially mentioned it anywhere, I filled XP95 during my initial days and felt the engine was super refined. I understand the manufacturers like Skoda and VW for their modern turbos recommend 95 Octane for their Slavia, Virtus, Taigun, Kushaq, Kodiaq and Tiguan.
I also heard XP95 is returning good results from Siddarth (who owns Amaze Petrol Automatic, Jayesh (from 700 WhatsApp group) and many more. And for the diesel owners here, do try XtraGreen by IOCL. I am hearing fantastic results with at least 3kmpl increment.
I will keep you all posted with the 10k service update soon.
Check out BHPian comments for more insights and information.

link