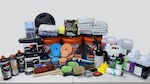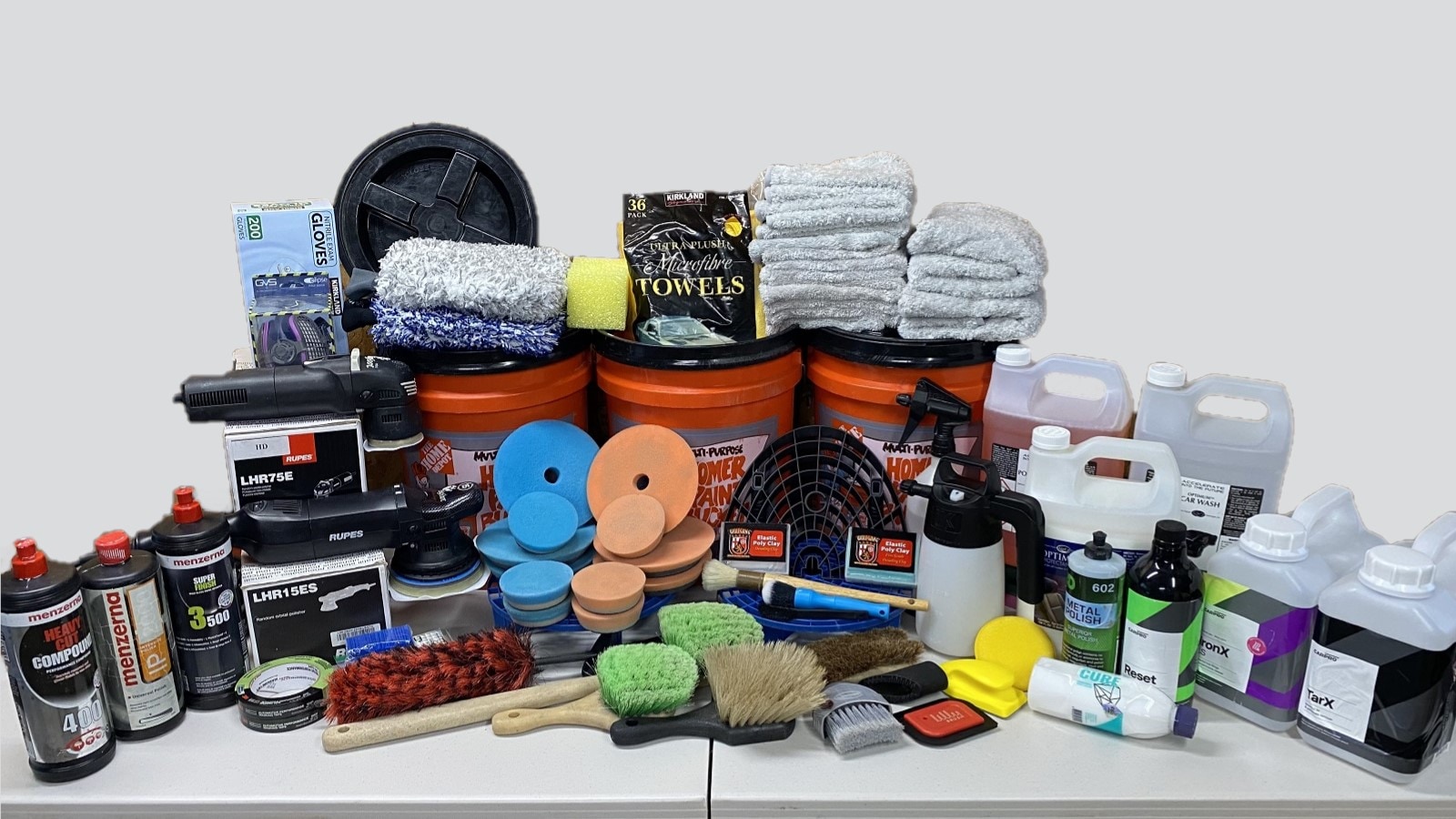 Choosing the best car cleaning products and equipment can be time-consuming and overwhelming. After countless hours of research and testing, we created the ultimate car cleaning kits to save you the trouble.
The car wash kit, exterior cleaning kit, interior cleaning kit, and paint correction kit include all the products necessary to detail your car like a professional. Less expensive car cleaning kits may be available. However, those pre-made packages often exclude essential products. Moreover, they may not provide the quantity required to detail even the smallest vehicles.
Many people find cleaning their car a relaxing way to spend the weekend, and the results can be gratifying. After all, it's hard to beat the feeling of driving a freshly detailed automobile looking like it just rolled off the showroom floor. Learning how to detail a car using the best products and tools will save you money in the long run. Plus, it helps maintain the vehicle's resale value.
Best Car Cleaning Kits
Choosing the best car cleaning kit isn't always easy since nearly every car care brand offers pre-made kits. Most brands offer a complete lineup of capable car cleaning supplies. Yet, each brand seems to have a few products that shine above the rest (car cleaning pun intended). Using a brand-agnostic approach permits building a collection of the best car cleaning products and equipment for all-inclusive kits.
How Products Are Rated:
Price – Product price is an essential factor when choosing items for the car cleaning list. Many products are either at the average price point or slightly above average. Less expensive supplies may not last as long or may require more product per application. At the same time, the highest-priced products may offer diminishing returns for significant price increases.
Performance – Consider effectiveness, safety, and durability when determining a product's performance. The products included on our curated list offer strong cleaning capabilities and are usable on various surfaces. Product durability can vary based on driving conditions. Still, each featured product has an average lifespan on par with the competition.
Ease of Use – Some products offer exceptional performance, but they can be a pain to apply. Working with difficult-to-use products can lessen the joy of car cleaning and result in a few mistakes during the learning process. The longest-lasting product isn't much good if a typical consumer can't easily apply it correctly in a DIY setting.
Types of Car Cleaning Kits:
Car Wash Kit

There are quite a few car wash kits on the market. Many of them come with a single bucket, one wash mitt, and a few microfiber towels. These pre-assembled kits are inadequate because the safest way to wash a car is to use the two bucket car wash method. The first bucket is filled with water to rinse the wash mitt after cleaning each panel, while a second bucket contains car shampoo. Each bucket should also be equipped with a debris filter to minimize the chance of paint marring.
Using multiple wash mitts or having a microfiber towel dedicated to cleaning the lower panels of the car is a good practice. The bumpers and rocker panels tend to be much dirtier than other areas. Using separate wash media to clean those parts is ideal. Remember to always start by washing the roof and work down to the rocker panels to minimize the risk of paint damage.
The ultimate car wash kit includes everything from the water hose to tire shine and everything in between. If you already have a collection of car detailing supplies, feel free to pick and choose the missing items from your product and equipment lineup or use an upgrade.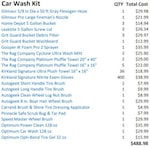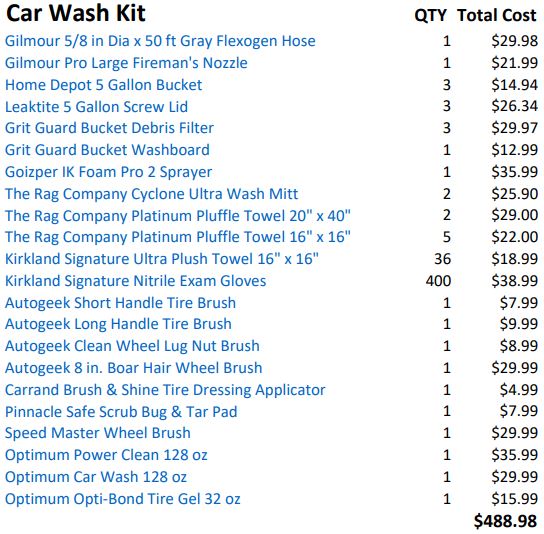 RELATED STORIES: Matte Car Paint: Is the Look Worth the Hassle?
Exterior Car Cleaning Kit

The exterior car cleaning kit includes many of the items found in the car wash kit. The additional products focus on decontaminating and protecting the paint. It's best to decontaminate a car's paint annually. Therefore, the exterior cleaning kit has everything required to remove bonded and below-surface contamination. For example, using the iron remover, tar remover, and clay bar will leave the paint smooth as glass.
Note of caution to new car detailers: Never use iron remover in a closed garage. The noxious sulfur smell is incredibly potent, and it will linger for days in areas without adequate ventilation. Also, wear nitrile gloves when working with iron and tar removers because the smell won't easily wash off, and you don't want to absorb strong chemicals through your skin.
The ultimate exterior car cleaning kit includes supplies needed to maintain a car for a few years or multiple vehicles for one year. You can purchase some of the products listed in larger quantities to offer a lower cost per application. However, commercial-size containers or multi-packs might be too much for the average person to keep on hand.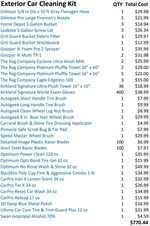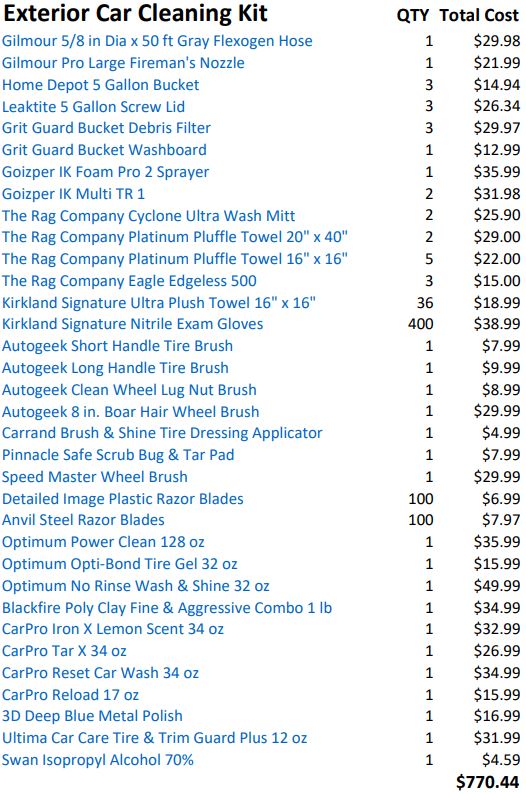 RELATED STORIES: Flood Car FAQs for Affected Owners and Shoppers
Interior Car Cleaning Kit

This supplies list includes everything you need to detail a car's interior except for the expensive equipment. For instance, a vapor steam cleaner and a hot water extractor are significant purchases. Each item can easily cost upwards of $1,000. However, we include a wet/dry vacuum in the interior car cleaning list. A high-powered vacuum makes removing pet hair and other stubborn contaminants easier.
Our list includes a three-part carpet/upholstery cleaning system to help you remove the toughest interior stains. First, the enzyme pretreatment breaks down the most stubborn stains with ease. Then, step two helps dissolve and lift the contamination from the carpet and upholstery fibers further. Finally, the third step helps tackle any remaining stains and sterilizes the surfaces to eliminate car odors.
The ultimate interior cleaning kit will have your car looking and smelling great.
Note: If your car doesn't have any pet hair and you don't intend to detail anyone else's car, save some money and pass on buying pet hair removal brushes.
RELATED STORIES: What are the Best Car Colors to Buy?
Paint Correction Kit

Paint correction is a skill for those who have mastered decontaminating a car's paint. We included two dual action polishers in the paint correction kit to ensure that all areas of the vehicle can be effectively polished. DA polishers have less correcting power than rotary polishers. However, they are much safer and easier for beginner car detailers.
Adequate lighting is critical for successful paint correction. So, we included LED work lights and a headlamp in the paint correction kit. Ideally, paint corrections are performed in a garage and away from the elements. Still, it's possible to polish the paint outside as long as the panels aren't in direct sunlight and remain cool enough not to impact the products' working time.
The ultimate paint correction kit complements the exterior cleaning kit. Combining the two cleaning kits into one large kit would have created a list of 50+ items and cost more than $1,500. We included a respirator because compound and polish dust are harmful to the respiratory system.
Related Stories:
link